Have Your Hottest Sex Ever
Studies have revealed that in men, testosterone levels go up as the temperature drops. If you think you are getting heated up in bed lately, and your woman not so much, here are nine tips for you to light the fire in her!
1
A heated massage
If you want to instantly loosen your lady up this winter, offer her a massage with a difference. While using massage oil, first test the temperature on the in
2       Bath tub or shower
The bath is a great place for a little winter loving as the water will warm you up and there are plenty of fun, sexy things to do while you are in the tub. You can get waterproof vibrators in all different shapes and sizes so there is no excuse for bath time boredom! The only problem with doing it in the bath is that water washes away the body's natural lubricants. So stay slippery by using a silicone-based lubricant.
3        Start slow
Don't go straight to sex. When she comes over, first pour her a drink, sit down in front of the TV and find out how her day is going and then drag it out to the bang. Some other time, take her into the kitchen, start making out with her and then hit home-run.
4       Get in the erogenous zones
Never underestimate the power of a few well-placed kisses. Drive her crazy kissing the nape of her neck and gently nibbling on her ear lobe – she'll get tingled all the way down to the clitoris. After a few minutes, she'll literally beg you to just put it in.
5       Do new things
There's nothing like a slow, sensual massage with a warming oil to get the heat penetrating throughout your body; not to mention the build-up of excitement in her as your hands get closer to those erogenous zones. Take turns to give each other a full body massage, taking care to heat up the oil between your palms before you start.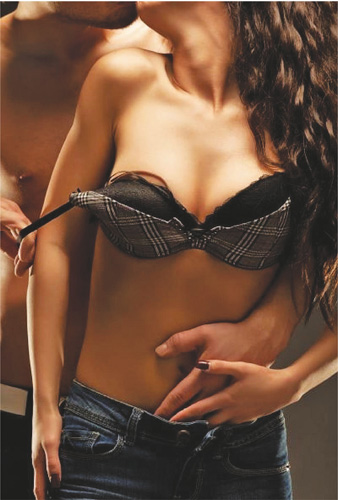 6        Morning

break
With the strip tease, massage and foreplay, you must have turned your cute lazy kitten into a hungry wolf. Offer spontaneous oral sex and she is all yours to own. Ask her to twist with pillows tucked under your precious bum. This will open her up offering deeper penetration and maximum pleasure for both of you.
 7        Hot and steamy
You just need to draw more blood to the surface of the skin to increase sensitivity, and warm sensations can do that very well. Rub the thin skinned areas hot or blow hot air such as the neck, ear, inner thighs and the groin. You could also use lubricants on each other's shoulders, back or butt. Another thing is that the buttocks of a man are the most admired part of his body. Purposeful movements triggered by the woman keeps them in shape. You must give her equal reciprocation for her to feel turned on enough.
8       Quickie on the move
An exciting idea would be going on an autumn hike, working up a little sweat and then having a quickie out in the elements. The feel of cold air against your skin is honestly exhilarating—and even more spontaneous than just getting it on at the beach after dark.
9        Make love instead
Does it feel lately like it is just sex? Try making love. Passionate lovemaking can ignite immense oestrogen levels in your lady love. Finally, we'd like to say that sex does not have to be such a big deal; just go with the flow and be as spontaneous as you can.