Singing "A Divine Pleasure" Says Benny Dayal 
If you are also serious about your singing career, then you must read it out and get an inside about the Indian singer Benny Dayal who is also a  member of the band S5 launched by the channel SS Music. Benny Dayal talks about his story in an interview with Abraxas NU.
How difficult was it to carve out a niche in the industry given that Benny Dayal doesn't  have a famous surname?
My surname is famous; we have had a president named after my surname. (laughs) Well a famous surname in the industry. Yeah doesn't matter really as far as you're beingsincere and honest to what you're doing and if people end up liking. So yeah! I think that I've always been like this and I still am.
What would you say was the turning point in your career?
Well meeting with A.R Rehman definitely
Is he your favourite music director?
Well!! he is more than a composer to me you know; to just work with him and understand him as a human being, itself is a big pleasure. You don't even have to sit and talk with him to understand him; what he's going through and what he's trying to portray with his work and stature. So it's really really nice to work with him because he's just cool and non-pretentious and very spontaneous with what he does. Whatever that comes out and you hear are all spontaneous ideas. You know like some of my songs which I have sung have happened like on the spot. Like"okay we have to do a song". And then out of nowhere a song is completed. He just has this very organic way of doing things. Because he keeps it very spontaneous, he is able to capture that innocence of the composition.
So how difficult is it for you being a singer from the South to break it into Bollywood?
It's pretty hard you know. I think Rehman sir broke me into the industry and then when people interviewed me to know where I was from, especially when I was recording for Yuvvraaj and everything, Gulzar sir was sitting there the whole time. He always said "I just can't believe that you're from Kerala".
Gulzar sir was sitting there the whole time. He always said, "I just can't believe that you're from Kerala."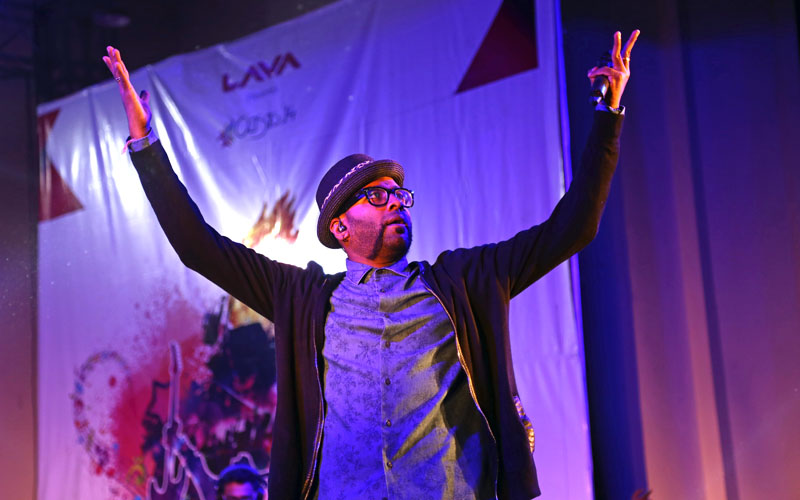 Out of all your songs, which one is your favourite?
Nazar Laaye
Okay favourite song in general?
Dil Se
Who are you really on the stage? An on-the-spot performer or a person carved out of a lot of preparation.
Well actually my band and I started playing and gigging about two years back. Last year was the big turning point when my songs became really big. And with gigs it comes to a point where we're playing the same material but we also don't want things to get mundane. So everyone starts throwing googlies at each other during the shows. And even like for Dil Se; was just Dil Se initially, then the fusion bit happens then the Albela bit happens. All these things were accidents; actually even Gagnam Style today in between, Ek Main Aur Ekk Tu was an accident. It was an accident at a prior show. And it worked.comics
In that sense does it take a lot more to become a good live performer than a playback singer or is that a myth?
No. it depends actually. Singing in studios is easy today. I can definitely say that because there is so much of editing and autotune; the best things come out to you. When you're live, there's no escape. You've just got to be on dot.
Any director that Benny Dayal want to work for?
Well I think one person with whom I haven't worked with since now is Vishal Bhardwaj.