Presenting Global Cuisine
Text: LiveTooEat
INTERIORS
Very well located on Golf Course Road in Gurgaon, The Clock Tower specialises in forward-thinking craft brewing techniques, adventurous mixology and food.
Spread across 4 floors – a double-heighted ground floor, the first floor and two levels of terraces, the gastropub boasts of interesting interiors infused with elegant post-colonial influences drawn from the British Raj era, made evident in the heavy pine woodwork, large English style doors and windows.
There are bars on almost every floor – with a live band area and DJ booth on the ground floor. The microbrewery is located on the mezzanine – and each floor has plenty of alfresco areas for seating (and smoking). Since the weather was beautiful, we opted to sit outside.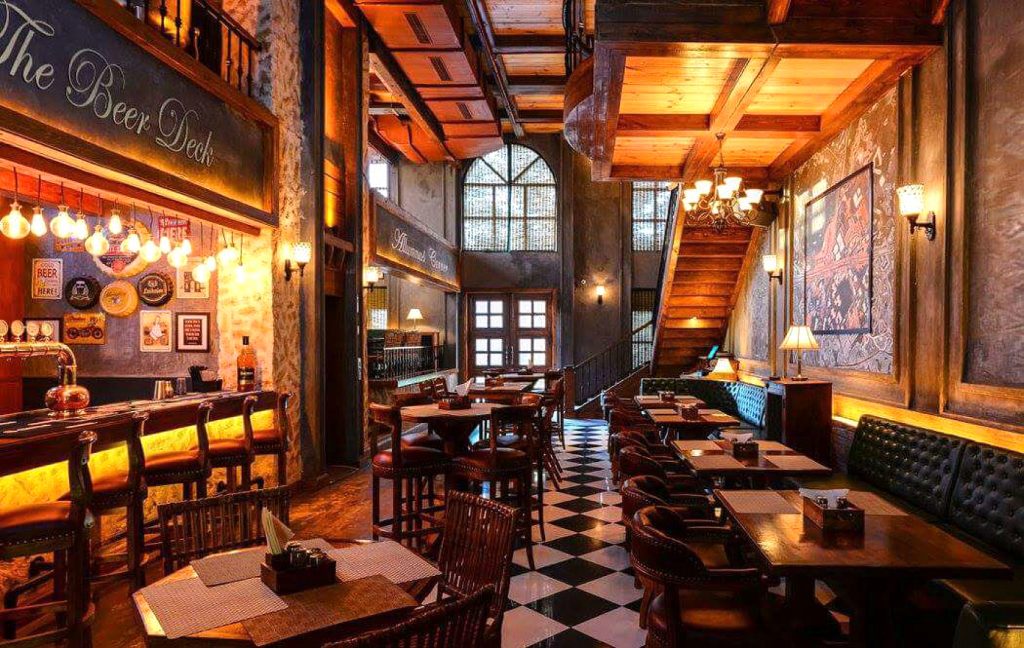 FOOD
Drinks
We were first served 5 kinds of beer on tap. The microbrewery has one beer which is permanent and 4 more which they keep changing as per the requirement. Being a microbrewery they brew their own beer with Australian and German and Slovenian hops. They tend to make small batches, so you will probably get to try a new beer every time you visit. All five varieties were very interesting – each with their own unique flavour.
We were then served three drinks – two cocktails and a mocktail. The first cocktail was a Whiskey Sour – made with bourbon, lime juice and gomme syrup – it tasted absolutely wonderful, with amazing presentation, the taste of the egg white being cut by the flambéed cinnamon put in front of us.
The second cocktail was the Rosotini – a gin-based cocktail with homemade rose syrup, egg white and lime – sweet, light and fresh, it tasted absolutely fantastic.
The mocktail, aptly titled Mandarin Sour, was a delightfully refreshing concoction of mandarin chunks, kiwi pulp and just a hint of cranberry – again very light and extremely fresh, it tasted wonderful.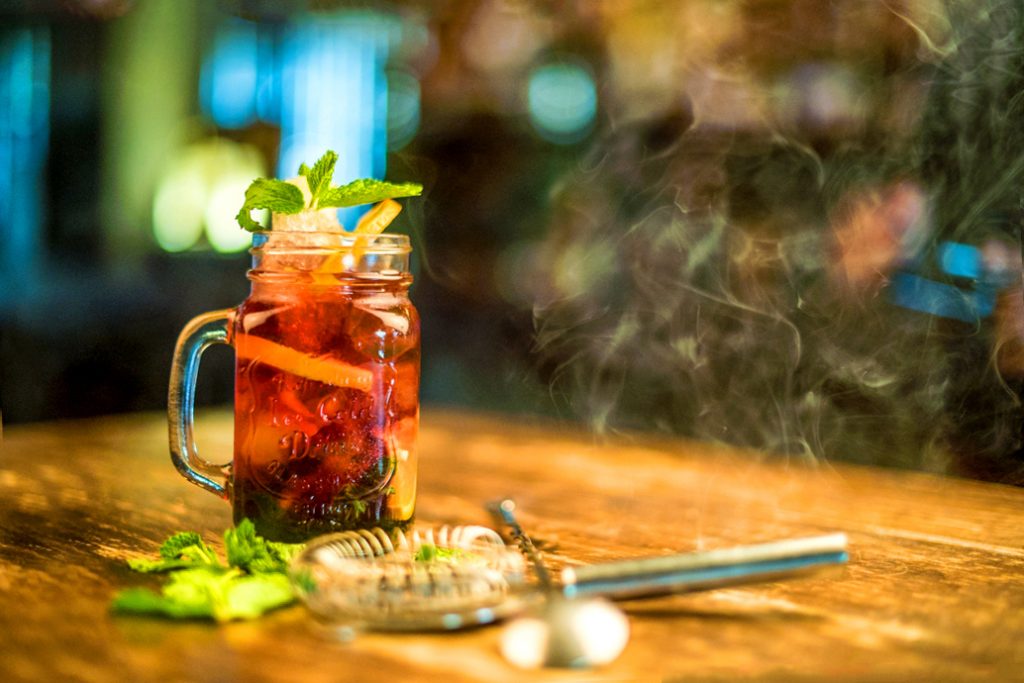 Starters
Starting with the food, we were served seven starters – Lemongrass Chicken Skewers, DahiKe Kebab, Double Fried Pork, Vegetarian Mezze Platter, Pork Vindaloo, Mr Reddy's Chicken 65 and Clock Tower Crispy Konjee Lamb.
We were first served the Lemongrass Chicken Skewers – infused with lemongrass during cooking and served on a lemongrass stick, the chicken was cooked perfectly and tasted very nice. Up next was the Double Fried Pork – small pieces of pork tossed in scallions, bell peppers, garlic and spices with a lovely slightly sweetish sauce – the pork tasted phenomenal – the pieces were soft, tender and were literally falling off the bone. Next we got the Pork Vindaloo. The pork was wonderful – very well-marinated and very soft – the taste of the gravy was also very nice and the dish was served with buttered buns. We were then served Mr Reddy's Chicken 65 – though not too close to the original chicken 65 recipe, it was again a great tasting dish regardless. Clock Tower Crispy Konjee Lamb came next – crisp and extremely dry, it was served with bell peppers, spring onions and a Chinese sauce and tasted extremely nice.
In the vegetarian section, the DahiKe Kebab were crispy on the outside, soft on the inside with a little tangy centre – served with apricot jam and coriander chutney, the overall taste was wonderful. We then had the Vegetarian Mezze Platter – pita bread served with hummus, labneh, baba ganoush, falafel and marinated olives – the pita bread was soft, the falafel was great, and the dips were simply outstanding.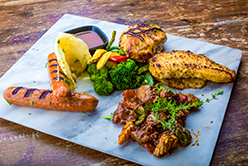 Main Course
Moving to the main course, we were served three dishes – Pan Seared Fish, Notorious Bangers and Mash, and Bangkok Thai Red Curry with Chicken.
We began the main course with the Pan Seared Fish – the fish was basa (not my favourite) – but thankfully it was well cooked – crispy on the outside and soft on the inside – the lemon butter sauce was extremely nice, as was the potato mash and vegetables served alongside it – overall it was an interesting dish.
The next dish was the Notorious Bangers and Mash – an interesting dish, it comprised of an array of pork sausages with garlic potato mash and onion gravy – the gravy was very nice – thick, brown and extremely flavoursome – balancing out the relative blandness of the sausages.
The final dish was the Bangkok Thai Red Curry with Chicken served with steamed rice – it was standard fare – but with a twist.
Overall I felt that the Asian and continental flavours were outstanding, while the Indian flavours could have been slightly better.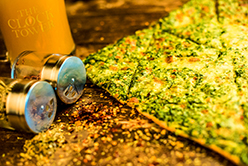 Dessert
We were served three dishes – Chocolate Cake with Ice Cream, Tiramisu and Banofee Pie.
The chocolate cake was nice and moist but not as soft as I would have liked it – however it tasted excellent and was thick and chocolatey – served with vanilla icecream, the overall taste was wonderful.
The tiramisu was nice and soft, and tasted great – however I would have preferred a little more coffee flavour.
The Banofee Pie was the best of the three – absolutely fantastic, it was a wonderful end to a very good meal.
Conclusion
Overall, The Clock Tower is a interesting destination for some great beer, warm ambiance and good food for the people of Gurgaon – adding to the already fast-increasing options in that area. Its excellent location and large variety of food and beverages makes it a good option for an evening out with friends and family.
 RATING: 8.6
Address
Opposite South Point Mall, Golf Course Road,
Gurgaon
Timings
12:30 Noon to 12:00am
Phone No.
+91.11.3080.6636
Cost for 2
2800 (approx.)
BIO
LiveTooEat:The author is an un-known, un-named, un-photographed and hence, un-recognised foodie – a businessman by day and food vigilante by night. He is somewhere between a gourmet and a gourmand – so his reviews and observations often tend to reflect that. He always lives up to his name – insofar as he 'does' live to eat.