Meet Sonam Kapoor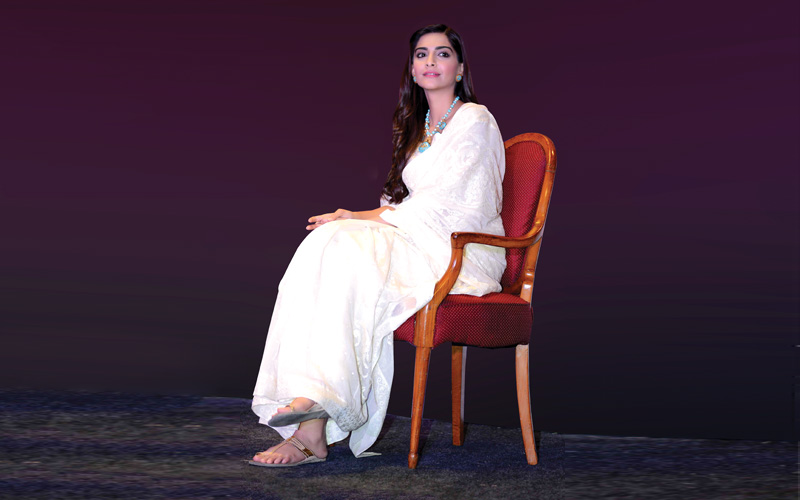 We have known her as Anil Kapoor's daughter from the time she made her debut in Sanjay LeelaBhansali's big budget film Saawariya. Though the film didn't do well at the box office, her appearance off screen for the promotions left us stunned. She is no doubt Bollywood's ultimate style icon. Not just nationally, her style statement is something that is talked about globally as well. Her second film Delhi 6 was not appreciated either, but style and fashion sense was something that was talked about.
We all know that Sonam has never been one to shy away from wearing big labels. Be it an Indian designer or an international one, Sonam has always rocked whatever she has worn with grace and glamour and has aced the red carpet and various other events since her debut. After her movie Aisha she was labelled a fashionista and all the credit goes to her personal sense of style. However, calling SonamKapoor a fashionista is an understatement, as the Aisha diva has taken fashion to a different level. Born in Mumbai, Sonam is no doubt known for her impeccable style and inimitable flair and quite surprisingly has never really had any fashion disasters. That doesn't mean she's always had it easy – from weighing 95 kg once upon a time, she has worked hard to get to where she is today.
Though we have seen her wearing odd dresses at rare occasions, nobody can really pin point any major fashion mistakes. Her style and fashion sense is something that everybody looks up to. From award functions and movie promotions to endorsements and various other events, Sonam is numerouno when it comes to dressing up. If one compares her first red carpet appearance at her debut to her most recent ones, one can easily gauge the confidence and style conviction she has achieved. From experimenting with designer clothes to changing hairstyles to playing with makeup, she has taught herself well. She loves to have fun with fashion and is not afraid to show her wild whimsical side to the masses. Sonam has been the ultimate path-breaker – whether it's western, Indian, or a fusion of the two.
It is very rare to find Bollywood celebrities attending international fashion weeks, but Sonam doesn't fail to miss any. Whether it's Milan, Paris or London, she has broken her own records of taking Indian fashion to the international level and has been spotted with Anna Wintour and Will.I.Am at shows for renowned labels like D&G and Jean Paul Gaultier.
SonamKapoor is not one to be afraid of making sartorial choices – with the passage of time she has only become more confident with her style and her taste in fashion. Coming from a celebrity family where her father is an actor and her mother is a former model and designer, she has been brought up in the midst of fashion.
When it comes to accessorising LBDs, Sonam's secret ingredient is her spectacular jewellery collection, especially her statement neck pieces. She's also a fan of designer footwear – be it boots, brightly coloured pumps or sparkly stilettos – her shoe closet is the envy of every girl in the country. Moving to her crowning glory, Sonam's experimented with various hairstyles which have included gentle waves for a feminine day look, a sophisticated bun for a formal affair and gorgeous curls for a glam look.
No matter what people think of her acting skills, it cannot be denied that SonamKapoor is Bollywood's ultimate style queen.