Druzela Fernandes Talks About Her Career And Plans As Goa's Newest Fashion Entrant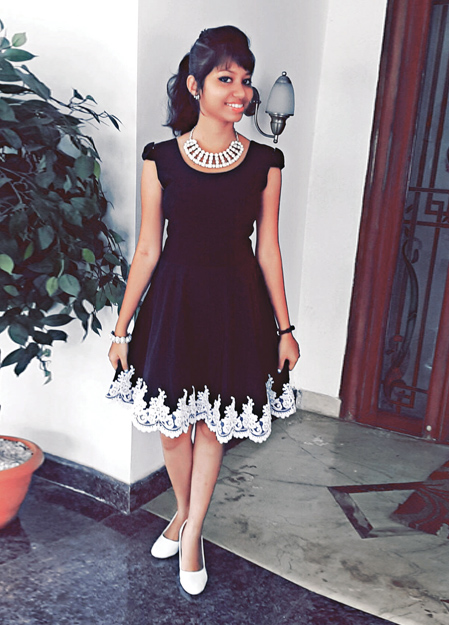 Following in her father's footsteps, Goa's upcoming fashion designer DruzelaFernandes takes us through her journey of fashion and her calling towards this profession. Druzela is the daughter of Andrew David, owner of Goa's most sought after brand of wedding suits and gowns – D'ziners, which has three outlets in the state of Goa. Asked if fashion was her first calling, Druzela says, "I never used to sketch at first. The first time I sketched was in college where we were being taught designing. I wanted to do fashion from the 11th standard, but did not want to take vocational, so I did my commerce instead. Till then there was no focus on fashion. I knew somewhere down the line, business will be there, but not fashion like it is today. It was only much later did I decide to take it up as a career after giving it a serious thought."
How did your career take off?
After graduating in Commerce, I completed my fashion designing from the Polytechnic Institute at Altinho in Panaji. As soon as I finished my final year, I decided to join my dad's business – D'ziners and the Panaji outlet which had been set up a year ago. Having acquired hands-on skill sets, I strive to apply my knowledge in the day-to-day designs of D'ziners.
Have you thought of taking part in any fashion weeks?
Yes, I have thought about taking part. But I am a little apprehensive at the moment. Even in college I would ask my teachers if I would be able to do it while seeing to the business.  Most importantly, will I be able to keep up to that standard that is needed and be able to deliver? These thoughts are always going on in my mind. Yes, I would love to take part, but time is the biggest factor that works against me.
 Has your family always supported you in your choice of career?
Yes, they have always supported me. Even if it wasn't fashion and I wanted to pursue my studies in any other field I would still have their support. And it's not because there is no boy in the house that we would be forced to join the family business, nothing like that. I have had this inkling for fashion from within.
 Who do you draw your inspiration from?
My inspiration is my dad. He always tells me that anyone who designs should always have a pencil ready to sketch and make the customer understand there and then. My dad is a very good artist and whatever he does is done very well. I want to learn a lot from him. There are many designers from whom I could draw inspiration from, but when you have someone in your house right beside you to help you and correct you, that is the true sense of inspiration.
What does fashion mean to you?
Fashion for me is about being comfortable. If you're not comfortable about what you wear, how you speak and how you carry yourself, then it's not fashion. It depends very much on each person's personality and perception of what looks nice on them.
What sort of apparel would you like to design in the future? Indian or Western?
Well, I would like to design both Indian as well as Western apparel for gents as well as ladies. And today it's more of Indo-Western / fusion designs that are the favourites right now.
 What is your motto in life?
Firstly, to be successful and secondly I would like my work to speak for me.
Where do you see yourself five years from now?
I would want people to know me by my work – simple yet elegant. And as they say, there is no better way of advertisement than word of mouth!
Rapid Fire
Favourite Fashion Icon
DeepikaPadukone, SonamKapoor
Favourite Cut                               
Slim fit
Favourite Fabric                                              
Lace, Chiffon and Georgette as they are good to work with
Favourite Colour
Purple and White