THE BLUE ESSENCE
As an upcoming designer from the resort town of Goa, someone who breathes and lives in this exotic beach destination, I have drawn inspiration from the beauty of this place and have interpreted it in a collection revolving around a blue colour story in a relaxed, refreshing and chic beachwear line by subtly juxtaposing bold sensuality with delicate femininity.
With a vivid colour palette of sky blue, turquoise, aquamarine, cerulean, teal, ultramarine with subtle ascents of multi-coloured floral shades of dark blue, cyan, mauve, lilac and grey infused with vividness of the blue shimmer, the collection comprises of a variety of styles ranging from reversible tie over bikini tops and bottoms, halter bustiers, mini skirts, elasticised crop tops and asymmetric wraparounds which can accordingly be interchanged and mix & matched to create different looks.
Look 1 & 2
A shimmering tie over a teal synthetic stretch material bikini top with contrasting band and edge panels in multi-coloured floral printed polyester perfume chiffon combined with a matching glossy cerulean ruffled poly satin wraparound skirt with 3D handcrafted flowers hand stitched to the fastening cord edges.

Pale blue lycra crop top lined with aquamarine polyester crepe with cutwork detailing fastened with elasticised tapes combined with the same bikini bottom.
Look 3 & 4
The bikini top is reversed so that the colour shades are accordingly reversed complemented with a similar polyester chiffon printed multi-shaded floral stole-cum-asymmetrically-cut-wraparound wrapped over an elasticised stringy sky blue textured poly taffeta bikini bottom lined with crepe polyester.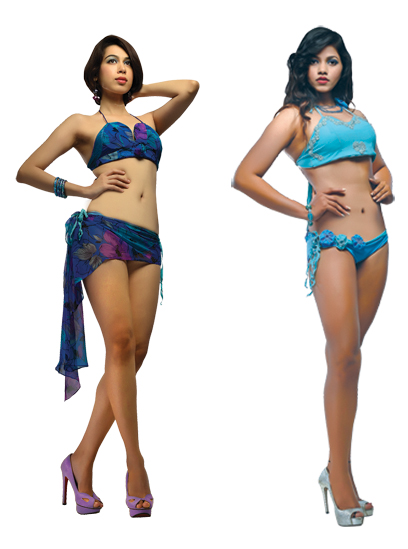 An aquamarine polyester crepe tie-over bustier with a cut lace motif patch worked on the sty line combined with a stylised pale blue lycra bikini bottom with a peplum style bikini sty line embellished with 3D handcrafted flowers of alternate shades of sky blue and aquamarine.
Jewellery : All the looks are accessorised with handcrafted jewellery made from round and oval shaped gemstones, crystalline and heart shape beads in shades of aquamarine, bright turquoise, sapphire, sky blue, violet, indigo and silver combined with hand stitched floral embellishments in a collection of earrings, necklaces and abstract printed bangles.
Harold Andrade – An Honours graduate in  Fashion Design & Technology from pearl academy of Fashion and Design. Harold Andrade showcased his portfolio collection in 2011 at the Chennai Trade Centre at a fashion show choreographed by Prasad Bidapa. He has worked with design teams for brands like FabIndia (Chennai) and has also been an assistant designer for Goan designer Philu Martins.
For regular updates on Fashion, visit our social media pages by clicking the options below:
Facebook
Twitter
Instagram
Pinterest