Fashion shows are a channel of communication between fashion designers and customers where designers showcase new ideas through merchandise on live models. Saranya looks at the impact these shows have.
Entry of Fashion Shows in the Apparel Industry
Once upon a time, designers showed new styles and designs to clients through sketches. After the dress was completed, it was displayed on a wooden dummy. Fashion dolls are said to be the first means of circulating the latest dress styles. Fashion dolls were used to show upcoming styles and designs to the customers. The dolls were illustrated with new styles and dressed up with jewellery as well as hair and dress styles.
Charles Worth, British couturier in Paris, came up with the idea of the living mannequin. When he opened his own store, his wife modelled his creations in the salon. When the idea worked, he employed mannequins who walked about in the salon or down the runway to show his collections to consumers. It was on early 1911, living models were used as a regular part of fashion promotions for retailers as well as manufacturers in the earliest fashion shows. Worth started his own salon in 1858. and on 1911 living models were used.
Apparel manufacturers need a platform to promote products to the target audience. Fashion shows play a vital role in marketing clothes and conveying recent fashion trends. Nothing is constant in fashion. Designs and styles keep changing. Fashion shows help in creating interest among the public to spread awareness about new arrivals in design and style. These shows help to draw public attention. Fashion marketing scrutinises fashion trends, coordinate sales and promote goods. It is necessary to grant exposure to various trends and styles of clothing. Fashion marketing is likely to notify the public about recent changing trends and about what is in fashion.
Fashion designers forecast trends. They attend trade shows or visit manufacturers to select fabrics and trims. Designers conduct fittings and adjustments on samples of their designs and the end product is marketed to clothing retailers. Fashion designers aim at inspiring the target audience to purchase the products.
Through these shows, fashion designers can express their creative skills and talent in designing various types of clothes. The individual talent of designers is exposed and they get an opportunity to promote their creations.
By involving themselves in these shows, retailers can gain various views of different designs and styles of clothes from designer shows. The knowledge gained from these shows helps retailers incorporate ideas into their boutiques. Using latest fashion software tools, designers can put designs on three dimensional images.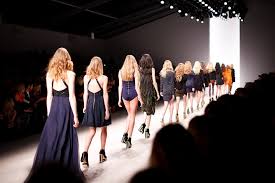 Impact of Fashion Shows on Society
Everyone likes to track everyday fashion. Fashion gives designers a chance to be independent in ideas. It boosts confidence in the wearer. Fashion is a form of expression for both the creator and the wearer. It helps people of similar aesthetics to bond.
Print and electronic media have helped the spread of fashion by showcasing the fashion statement of celebrities. They also cover fashion shows and their coverage reaches the target buyer. Once the design is followed by customers, it becomes fashion.
Fashion shows not only market products to the target buyer but also target fashion journalists and apparel manufacturers. Most fashion shows aim at buyers from department stores, major markets, fashion journalists and wholesalers. Apparel manufacturers get inspired from the photographs and videos of fashion shows to produce affordable clothes. Most clothes manufactured by apparel industries are inspired by fashion shows. These shows are a way to celebrate variety. Whatever the fashion, it is the choice of customers whether or not to accept a trend. Thus, fashion shows are a tool to show the latest trend.