Fashion designer Masaba Gupta presents her first collection the "Patakha' at the Wills Fashion Week, 2014.
About The Collection
Inspired by Fiama Di Wills Shower Jewels Masaba Gupta presented her first ever collection at the Wills Fashion Week 2014. Masaba's collection had embellishments – an amalgamation of fluid silhouettes with zodiac signs inspired by the gemstones. The designer gave a glamorous, uber chic touch to this new collection while retaining her bold signature style motifs.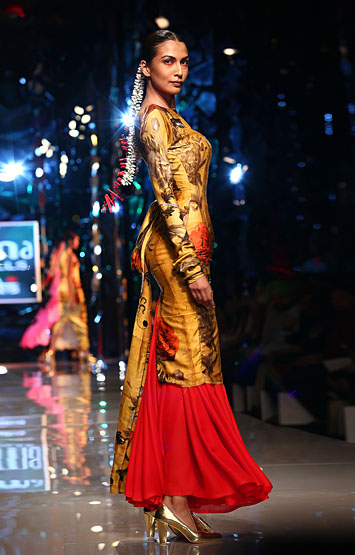 Highlights
The line has 2 main key prints namely the Patakha print symbolizing the feistiness of Leo and the Capricorn that embodies the laid back yet serious attitude.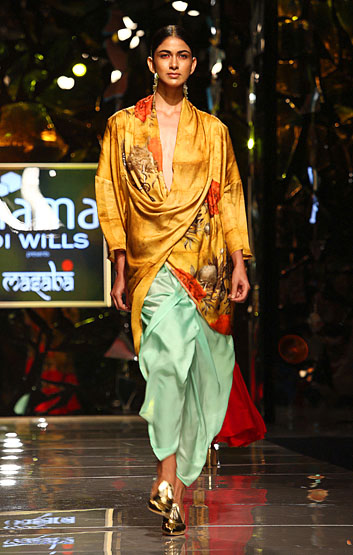 Embellishments of gemstones on Earthy motifs of zodiac signs, straight cuts and fabrics to prints. The bright yellow shades of the collection saw plate chains of silver and gold and beautifully decorated braids with orange and white jasmines. A blend of hot and cold with the occasional molten gold makes up the colour palette of the collection.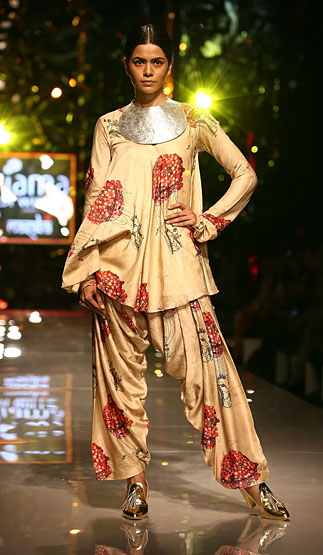 Designer's Take
The muse of this collection is the raw aflame 'Patakha.' The silhouettes of the collection are fuss free, fluid and laid back, but have their own sensual appeal, and are, as always, the signature House of fashion designer Masaba.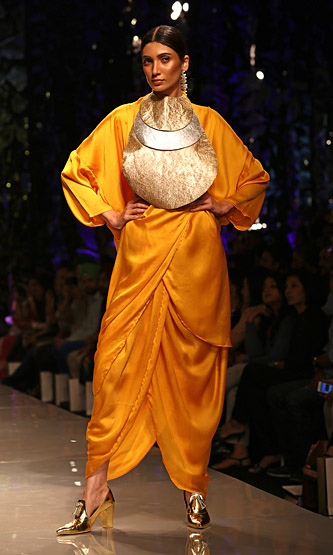 Our Take
Masaba's collection is sensual, exquisitely feminine, young and a blend of truculence and serenity. The palette combines the delicate floral with the feistiness of a 'Patakha'. The bold metallic colours seen on the ramp completely personified Gen Y.