In Conversation with Siddhartha Tytler
Siddhartha Tytler at his studio in Delhi for an in-depth interview where the designer opened up about his evolution, trends, working with clients, criticism and more…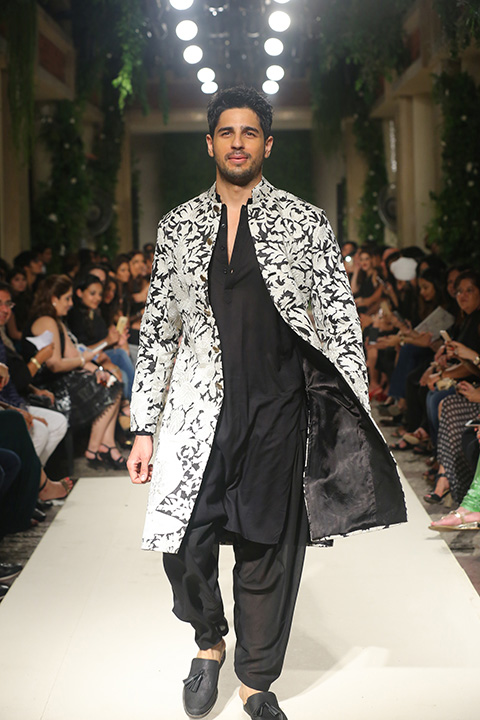 Tell us something about your journey and evolution.
My journey basically started in school in Class 11 when I was studying to be an architect. I went to New York to 5th Avenue and after looking at all the brands and showrooms, I thought "I'd rather do this instead".  I spoke with my family about it and I admit I fought with them a bit. They told me to prove myself and only then they would send me to college abroad to study fashion. I did a 10 month course at NIFT Delhi and finished second in the fashion show. From there I went to FIT in New York, where I studied like a mad man, came back and then started my brand in 2001-2002 and it has just been going on since then. It's been rocky but it's been fun. I've made a lot of friends as well as enemies on the way but it has been a good journey. It was a good learning experience.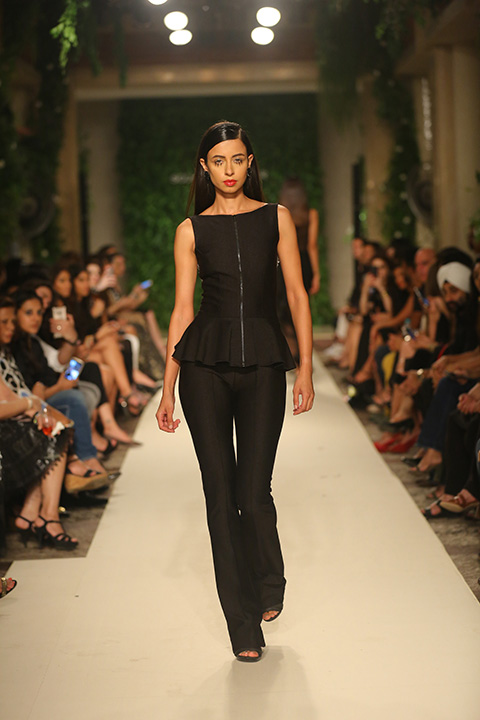 What do you think is the future of fashion in India?
I think India is on the right trajectory. We have a lot of brands that are getting noticed abroad like Manish Arora and Rahul Mishra. I have also done shows in New York, at the Eiffel Tower, and in Dubai and have a lot more coming up. I think the quality of our garments is improving. Our acceptance towards new fabrics as well as technology is increasing. Our one up is thanks to our traditional embroidery, which nobody can make the way we do. And I am not talking about us designers, I am talking about everyone. Be it our hand-looms or embroideries, India is getting noticed rapidly.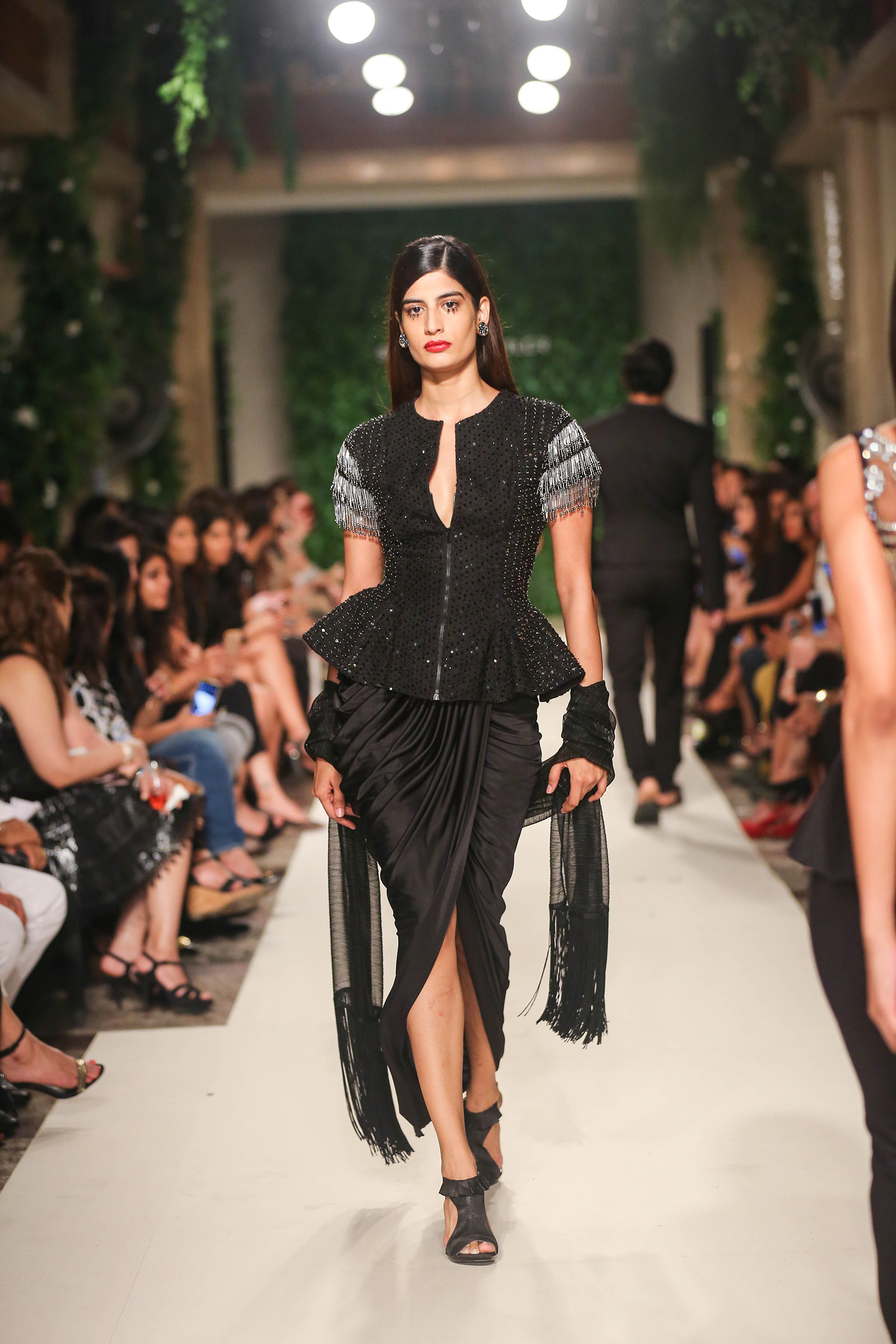 Do you think inclusion of foreign labels is affecting our market?
No one can control how someone spends their money. Everyone wants everything in their cupboard. You want to go to Zara, feel free to go there. You can go anywhere, it is your money. We have the one up where embroideries are concerned. When these brands were coming in we thought there might be an issue but it turned out to be okay.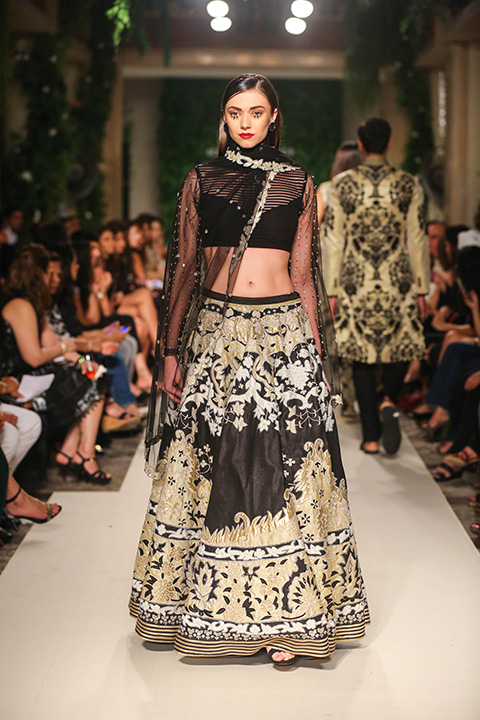 What do you think are the differences between the Indian fashion industry and fashion industries overseas?
I wouldn't really know how brands outside function but I have a friend who has a brand outside India and apparently it is very cold and mechanical. Everything is very systematic there. In India you want to have fun with work, but the work is done. Abroad it is like cut-cut-cut-cut-cut-cut, here it is more like a flow, so I'd rather work here.
What is fashion and what is style according to you?
Fashion is a reflection of self. It is about the character, and bringing out who they are as a person, in their look. Style is something you cannot buy, you cannot be taught. Style is something you are born with. Whether it is good or bad there is no judgement. But it is something that you have within yourself.
Designers showcase trends every season, how should one follow them?
I don't follow trends. I do what I want to do for any given collection. But it is good that designers follow trends because it is more in sync with the international market. Being a couture designer, I don't follow trends. We do what we like and if clients like it then we go for it.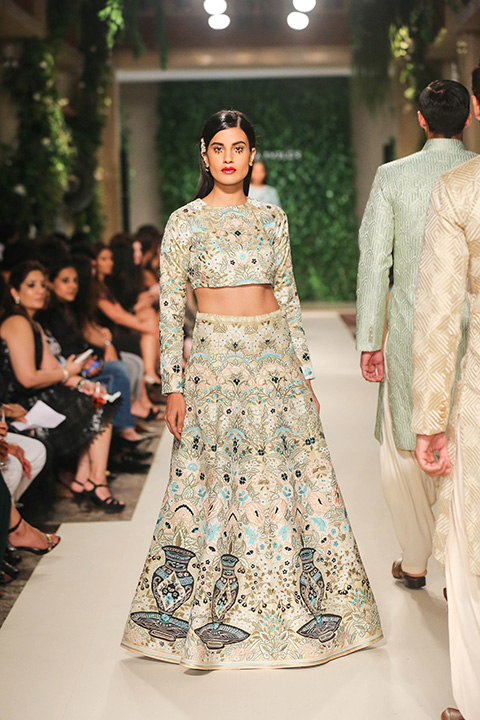 Which are your favourite colours and fabrics to play with?
I love my blacks. In every collection of mine you will see a hint of black, if not the whole collection being in black. Coming to the second part of your question, I love using new-age fabrics. For every collection I go out personally and source out fabrics. In the last collection we used metal hardware for the show, as embroidery. We use velvet, neoprene, laser cutting and other different kinds of stuff. But the choice of fabrics depends on the mood.
What colours would you choose for an Indian bride?
Well, if you want to go totally traditional then go with shades of red and maroon. The bride who wants to be traditional but wants to have fun can go for fuchsias, oranges and peaches. I would love to see beige or an earthy tone. I think those are the most beautiful colours, and they give a 'forever' look. At the end of the day, it is not just about your wedding. Fifteen years down the line, what do you have except photographs? A beige lehenga would look good fifteen years from when you wore it too. I would give this advice to all brides and grooms that they need to look like a couple because ten years from now they will only have photographs. You have to look good in the photographs far far away from now.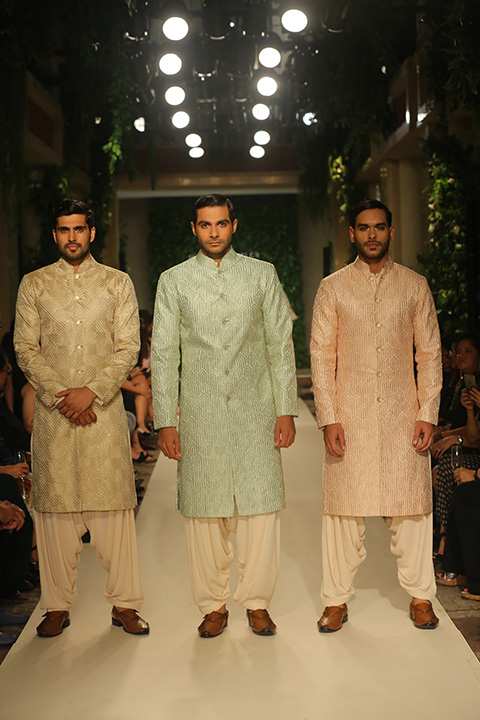 What colours would you pick for the groom?
I love to work with ivories for grooms. Of course grooms want blacks, turquoise and all kinds of colours but I usually try to convince them to go for earthy tones to complement the bride. They have to complement each other.
What is your personal style statement?
My personal style statement is to be true to myself.
What's a typical day in your life?
I am at work at 10:30-11:00 in the morning till 6:00 o'clock in the evening. After that I go home and some friends come over or I watch TV. That is a normal day in my life.
Tell us about your other interests.
Horror movies, hanging out with friends, I don't like to party and that's pretty much it.
Who has been your inspiration over the years?
Rohit Bal and Gianni Versace.
How do you conceptualise an idea once you decide to make a piece?
It all depends on my mood at the moment. Yes, I do go on the internet and surf around for inspiration and when something clicks at that point, we organically grow from there. I usually make one style and from there we will start evolving into the next and so on and so forth.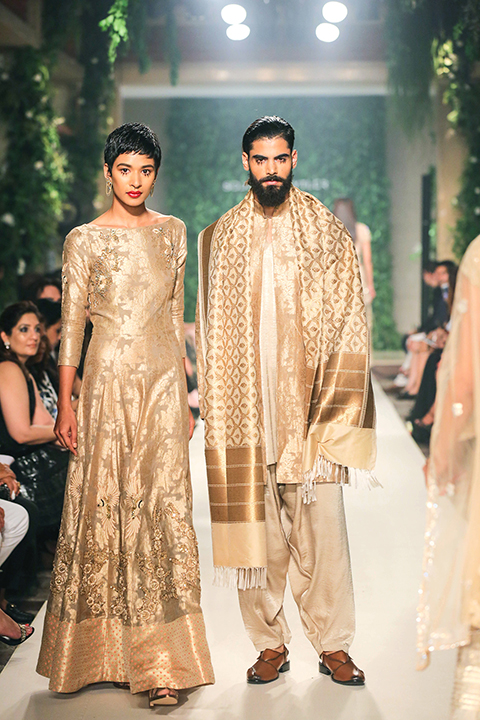 What are your comments on the senior as well as the upcoming designers? Do you think senior designers help junior designers?
Well, personally I don't think senior designers help junior designers but they are very focussed and busy with what they are doing. Yes, there are a few senior designers who really go out of their way to promote people who have worked with them and have branched off on their own. There is Sahil Kochhar for Rohit Bal; Amit Aggarwal for Arun and Nandita Basu with Sunit. I think the new designers that are coming up are absolutely fantastic. I don't even think they need advice. They are so on-point with what they are doing.
How is Siddhartha Tytler different from others?
I am different because I have a personal interest in every single order. We learn about the client and we make a garment specific to the client, so I think this personal touch is missing in the industry, which is fine. A lot of people like other designers too and pick work from them too but I like to put in that personal advice.
Is there any experience you've had with your clients – good or bad – that you would want to share?
Yeah, I had a client who didn't pay me for over a year and at the end of the day told me "Your father has enough money, take it from him". I just left it as a donation. The client was from South Delhi.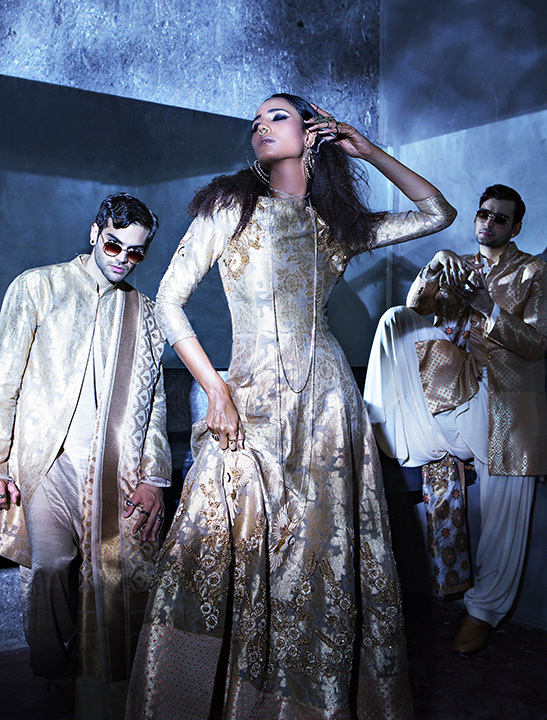 What is your advice for the fashionistas and what are some of the faux pas that women usually commit?
I think the biggest fashion faux pas according to me is over-styling yourself. I don't understand why people love to deck themselves up like Christmas trees. And then they will take bags to match, will wear matching shoes, a matching headband, matching jewellery, etc. Don't over style. As Chanel says "Always take off the last thing you put on, always".
What are the five essentials in a woman's and man's wardrobe?
For women I think a flattering pair of jeans, a crisp white cotton shirt, a nice go-to dress and of course amazing shoes because that's the final touch. Bad shoes can make any good outfit look bad, and the fifth essential is to carry a good attitude.
A man should have a good jacket, a good bandhgala, a good pair of jeans of course (everyone needs that but many people buy a pair of jeans just because it has a label on it but doesn't look good on them), a white cotton shirt and a baby pink cotton shirt.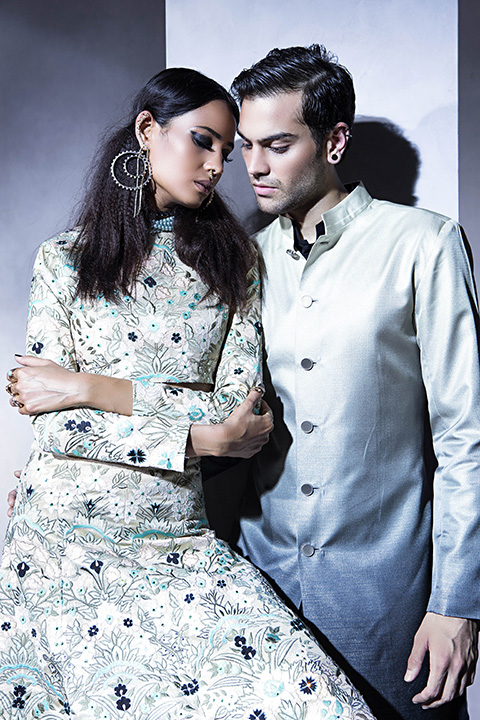 What's the fashion forecast for the winter season?
We are in Delhi and we love to wear black – so we don't digress from wearing black. Black is my colour. Of course you can do charcoals and navy blues but stick to darker colours which look rich. It is also the party season for India, so women should dress up really nicely.
Are celebrities difficult to handle?
No! There may be one or two but no comments (laughs). Celebrities usually show attitude the first time you work with them but once they are happy with what you have given them and what they wear then they will be like "Sid, yaar ek outfit bhej de".
Do you love working with celebrities or with common people?
I like working with anyone who is ready to work with me. That's the way it is. I don't chase work – if work comes to me, I take it, no matter what the work is. We also customise our outfits to suit the client's requirements.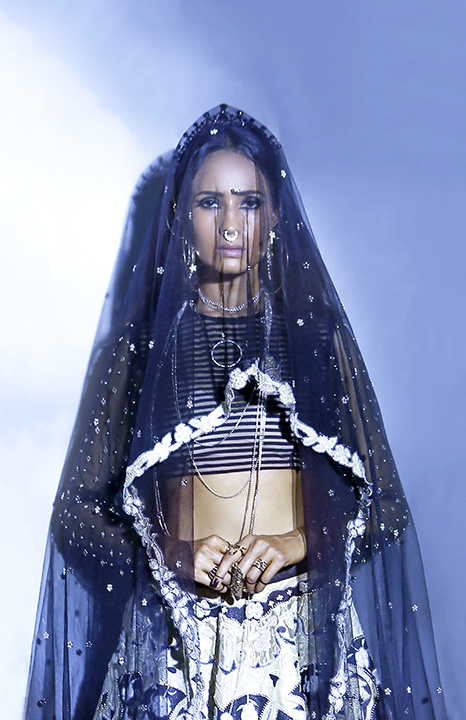 What's your message for the upcoming designers and fashionistas?
I would tell the upcoming designers to stay true to themselves and their styles. But at the same time I'd tell them to listen to what people around them have to say. You don't necessarily have to take the advice but just listen. It'll only help you in the future. Learn what your clients have to tell you and try to absorb it. To fashionistas I would say that you are all doing a great job – just tone down the styling. We need more stylists in Delhi.
How do you react to criticism?
I am absolutely happy with it. I appreciate any form of criticism. I am also a critical person. If you ask me how you look, I will tell you everything exactly and honestly. I'm brutally honest with people the second or third time, maybe but not the first time. I have criticised brides who were wearing my designs – I've told them that they cannot go like that.