Bhagyashree talks about where she's been all this time and her priorities in life
Bhagyashree Dassani Bollywood actor and Maine Pyar Kiya actress who started her career on Television with Kachchi Dhoop, has returned to her roots with Laut Aao Trisha. It is an adaptation of the popular Spanish telenovela Donde Esta Elisa, and is being telecast on the Life OK channel.
You started your career on the small screen, then moved to the big screen of Bollywood, and then moved back to the small screen. How does it feel?
Well as an artist, I don't really think the medium matters. I don't think that television or films are categorically that different. Especially not now with the kind of television that has started happening – the production values have increased, the way they have been showing TV serials and the kind of scripts that have been written. For example, I'll give you my own film, Laut Aao Trisha. It's an emotional thriller. If I took you to see the sets right now, you'd see that the sets are nothing short of a film set, the production values are that big and that glamorous.
Television then, television now, what are the differences?
Well, fortunately even when I did television back then, I did it with big production houses, and I did well. We even had a set built for Kachchi Dhoop which was built at Nataraj Studios which was a big set. So right from the beginning, I've been working with grand production values and things like that. From that perspective, I think the storytelling and the narrative have changed over the years and I think the audience has become much more savvy so you can experiment a lot with television now.
What made you come back to acting now after such a long period? Why were you off-screen for so long?
Well, I give priority to my family, and my kids were growing up, and I felt that as a mother it was very important for me to be with them. So I thought that the time that they are growing up and their core values are being formed, it's very essential and imperative that a mother stays with her children to guide them properly.
I have been doing work all those years but I've been on and off .It's just been a few films down south, a couple of International projects, and that's about it. So been in and out; not really left it, but not really full-fledged into it either. But now that my daughter's gone to London for her education in business management and my son's busy with his own life, so I said okay, now I have time where I can get back to doing what I really love.
Are your children also planning to enter Bollywood films?
Yes, my son is. My daughter, however, is more interested in the corporate sector.
Do they take advice from you for their choice of careers or did you give them advice on your own like a mother does?
I think careers should be something that you love. They are still young, where they can experiment and decide to follow the life that they wish to follow.
They are still in the experimental stages. Of course, one does tell them the pros and cons of whatever line they wish to choose or decide to choose, but that's about it. I would bless them with whatever they decide to do.
Do you watch television fairly often?
(Laughs) I have started watching it after I started the serial. Before that, I didn't watch television.
What do you do in your free time?
I do watch films off and on. What I really do in my free time, is travel. I love to travel. I've travelled all over the world. It's something I really enjoy.
Will you accept more projects in television?
Well of course. I've got my hands full with Laut Aao Trisha right now, but once this gets over, then probably. I'm keeping my options open.
What is your priority when it comes to accepting a movie?
Oh definitely, script is king. Especially nowadays. I don't think the time or the expanse of the role matters as much as the impact. When you finish a film or a serial, if a character stays back with you, then you've made your mark. It doesn't really matter how long your role is.
You started your career with Salman Khan and he is still paired opposite girls who are three times younger than him. Why doesn't the same thing happen with Indian actresses?
I think in the social structure of our society, heroines are something that we fantasise about. We are brought up with that notion that kisi aur ki biwi ke baare mein hum kaise soch sakte hain. It's like what you're really brought up with. So I guess that the younger lot of heroines are looked up to or given more roles. I think I talk for myself when I say that as you grow up, you kind of prioritise your life differently where other things take priority over your career. So you're not really in the rat race, and you're not really striving to move forward whereas the younger lot is really there on the scene and those people are a lot more aware of things than we would be.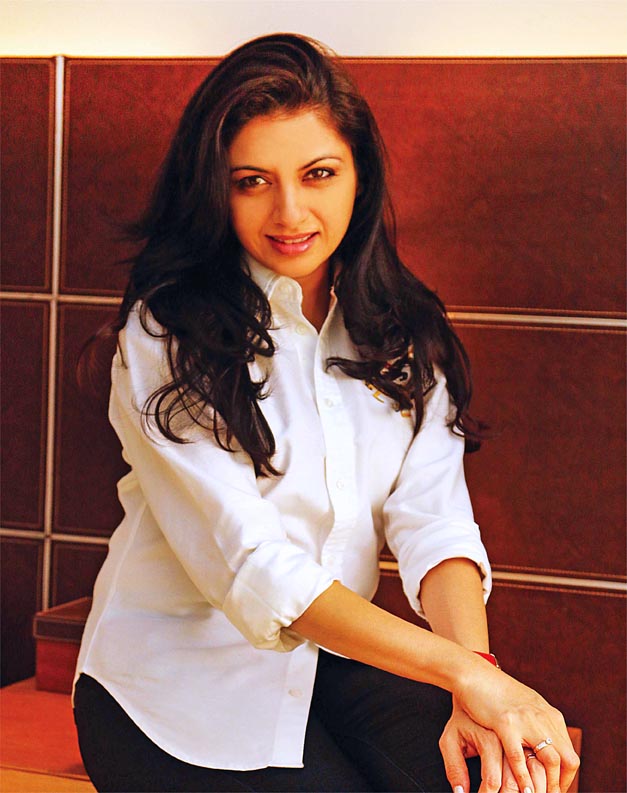 Don't you think that it is also the mind-set of the directors?
Well first of all, I don't think mature love stories are really being made in India. So it depends on the script. Now if the script demands someone who is younger, I would find it very ridiculous if a director were to come to me with that kind of role. So I don't think it's suitable at all. Forget him not feeling, I myself would not feel that I'm suitable for that. So it depends essentially on what kind of script is being written, and what is being offered to you. And again I don't think that there are mature love stories actually being made in India where you can take a forty year old woman and make it work.
Maybe, perhaps they are not willing to experiment…
Well, we have just started experimenting with lots of different cinema, so who knows? As of now I still think that it is in its very nascent stages.
What do you have to comment on the present generation of actors?
I feel they're super confident. They probably know all the tricks of the trade which we learned while actually acting early in our careers. They come completely prepared; everyone knows everything about the camera, how to dance, the way to fight, I mean they come like a full package. So hats off to them.
You got married at the peak of your career; did you ever think "I should have waited for some time"?
See life is not about ifs and buts. I think all of us come to different crossroads many times in life, and you take a choice and you make a decision and you move ahead. So once you move ahead on that road, it's better to look ahead. Not to say you don't have memories of the past.
Do you have any regrets?
You do have memories and very sweet memories of the past. But you cannot take a U turn and come back because you've already missed out on a lot of time, and a lot of time has gone by. So you should keep moving on that road and there'll be another turn, and then you again decide which way to go and that's what life is all about.
So you're satisfied?
Absolutely. I look at my two children and I feel that God has blessed me with so much.
You don't look like a mother of two at all.
What is the secret to your youthful look?
Keeping you happy. I think it matters a lot when you are satisfied. You're not looking down on someone, you're not feeling jealousy towards someone, you're not regretting things and there's no angst towards anyone. So when you feel that, I think somewhere it reflects on your face.
And of course apart from it, you do your usual things of not having too many late nights, exercising and eating right, which I think today's women (at least most of my female friends) end up doing. But I think the most important thing is just being happy with yourself. I think that matters a lot.
I think in the social structure of our society, heroines are something that we fantasize about.