The latest version of the windows to come as an upgrade to Windows 7 and Windows 8.1
Microsoft announced that the Windows 10 operating system will be available worldwide on July 29. It will be like a free upgrade of Windows 7 and Windows 8.1. The idea behind this is to capture as many users as possible. Windows 10 will be available in Home, Mobile, Pro Enterprise and the Education editions.
For the home edition, Windows 10 will have the supporting voice –assistant Cortana, Windows Edge browser as-well-as Windows Hello face recognition, iris scanner and fingerprint login for various Windows apps such as photos, maps, mail, calendar, music and video.
As far as the business users are concerned, Windows 10 Pro edition will have all the features of the home edition, plus additional features such as device management, security features and cloud features which are ideal for smaller businesses.  This is not the only feature; Windows 10 will also have a broad range of options for operating system development and comprehensive device and app management.
When it comes to mobile you will get Windows 10 Mobile Edition which is the new name of the Window OS and the Windows 10 mobile Enterprise Edition. Windows 10 Mobile is meant for use on mobile phones, tablets and touch devices. The mobile edition will also have security features and innovative features on the mobile device.
Here are some more features of Window 10
Cortana:  It is in all sense the world's first digital personal assistant. Cortana learns your preference and provides you apt recommendations, fast access to information and important reminders. The best part about the Cortana experience is that it is not only limited to your PC, but also your smartphone.
Microsoft Edge: It is a new browser which is designed to get things done in a new way. It has built-in commenting on the web (typing or inking), sharing comments and reading reviews on the net too, is much easier. When with integrated Cortana, the results are quick and the content is based on your interests and preferences.
Xbox Live and integrated Xbox App:  This app is the ultimate gaming app. It brings the substantial Xbox live gaming network to both Windows 10 PCs and tablets. Players will be able to play the games directly from their Xbox One console to their Windows 10 Tablets and PCs. The games that have been developed by Direct X 12 in Windows 10 will have better quality in terms of speed.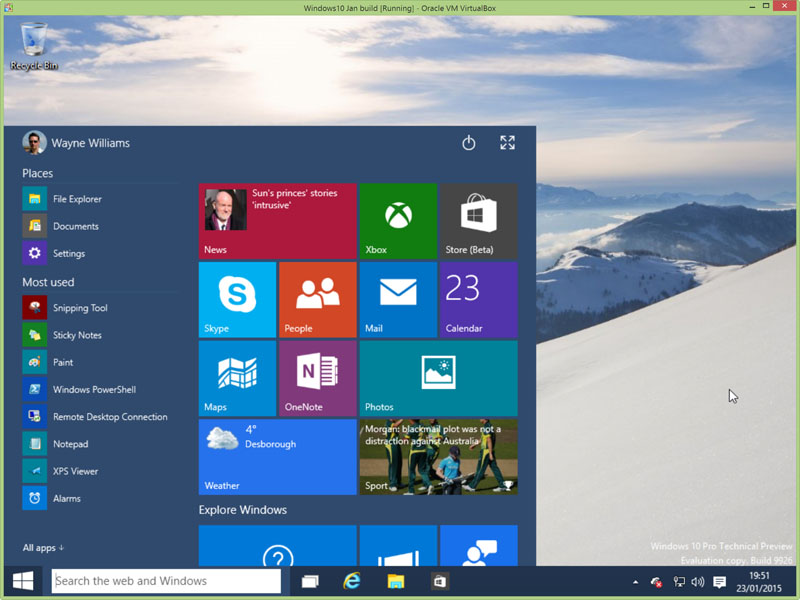 New Photos, Videos, Music, Maps, People, Mail and Calendar Apps: All these apps have updated their designs. The look has now been made uniform from device to device. This means that the interface of the App will remain same even if you switch from one device to another. Even the Apps have some kind of uniformity.
Windows Hello:  It will greet you by name and with a smile. It lets you log in without a password and in the process provides a more secure access to Windows 10 devices. Windows Hello has a biometrics authentication system, which allows for a better authentication via iris, face or fingerprint.
After much speculation, Microsoft has finally revealed that it will be launching Microsoft Windows 10 on July 29. The Windows 10 has a promise of a lot of new and enhanced features. Users of Windows 7 and Windows 8.1 will definitely be eagerly waiting for July 29th to upgrade to Windows 10.