Garmin Vivofit – The latest wearables
Not that the Vivofit's display overwhelms you with data, but it does the basics fairly well. So if you like to watch fitness data on your phone, you can pair it over Bluetooth with your Android phone or iPhone, but even if you just slap it on to your wrist, the Garmin Vivofit will keep displaying information like steps taken, calories burnt, how close you are to your daily target, and will even flash a red band of warning if it senses you have been inactive for too long.
It's the era of wearable technology. Just about every company in tech is right now trying to convince us to strap on a gizmo to one part of our body or another, all in the name of delivering information, be it pertaining to fitness or from our phones.
And one of the latest to join the wearable brigade is the Garmin Vivofit fitness band from Garmin (yes, the same people who make those big navigation gadgets for cars). On the surface it seems pretty much like most routine fitness bands, with a slightly rubbery strap into which one fits the core component – but it does come with some colourful options too. Garmin have added a display to the core component, so you can actually see information on it.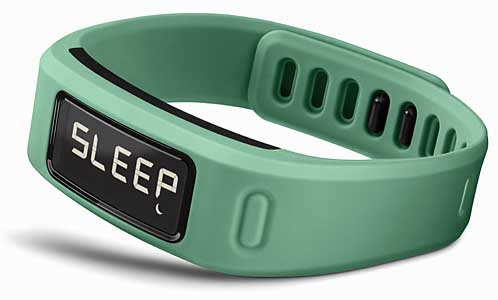 You DO NOT have to charge the device.
We left the best part for the last. You DO NOT have to charge the device.
Yup. No extra cables to carry around or worrying about battery levels. Well, at least not for a year. That's how long the battery on the Vivofit lasts. Not difficult and not too expensive either.
It's simple. It's sleek. And if you are the step and calorie counting type, it is a Godsend. The catch? Well, it comes at a rather stiff price – Rs 9,999. That's about as much as a decent smartphone these days. On the other hand, it certainly is more affordable than most of the smartwatches in the Indian market right now, such as the Galaxy Gear 2 and the LG G Smart, has better battery life, and best of all, does not pretend to be a miniphone on your wrist. Not a bad option at all for fitness freaks. As of now it's certainly the most classy and reliable option out there.
Nimish Dubey : A commerce graduate from Allahabad, Nimish Dubey stumbled into the world of gadgets in 1999 and has made himself at home ever since. He has been published by a number of publications and websites and has also written two books for young adults. When not writing, he can be found buried in a book or trying out apps!