Truly Goa
Location
Located in Nerul, Sol De Goa the restaurant is an extension of its namesake hotel.  A beautiful courtyard pool greets you  on your way to the restaurant which has spectacular views of lush green fields  as well as a poolside dining area.

 Interiors
Beautifully designed by fashion designer Tarun Tahiliani, the restaurant has an indoor area as well as an outdoor dining area. The indoors is done up in light colours, with wooden furniture and a mix of upholstered as well as solid wood straight backed chairs. Beautiful glass chandeliers hang from the ceiling and pictures which seem to date back to the renaissance and earlier adorn the walls.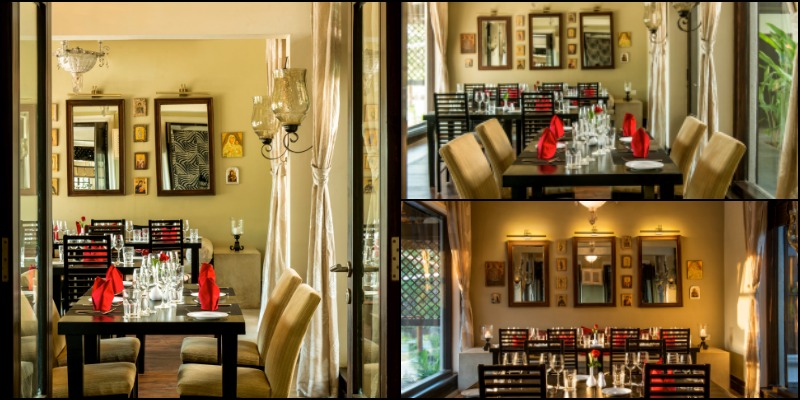 Drinks
We were served 4 drinks – two cocktails and two mocktails.
For cocktails we were served a Watermelon and Basil Martini and a Piña Colada.
Both cocktails were wonderfully made and tasted excellent, the Piña Colada especially was phenomenally fresh and tasted absolutely wonderful.
For mocktails we were served a Virgin Mojito and a Cranberry Apple Cooler. Both were very nice and extremely refreshing.
Starters
We were served 6 starters – four pizzas (two non-vegetarian and two vegetarian), Crab Lollipops and Spaghetti with Kingfish
The two non-vegetarian pizzas were the Pesto Pollo Funghi and the Pollo Pomodoro Secchi while the vegetarian pizzas were a Margarita and a Mediterranean Vegetable Pizza.
The Pesto Pollo Funghi was a phenomenal combination of chicken and mushroom pesto while the Pollo Pomodoro Secchi was an interesting and yet safe combination of chicken and tomatoes.
Moving to the vegetarian pizzas, both tasted very nice but weren't as wonderful as the non-vegetarian ones.
We then had the Crab Lollipops which were absolutely amazing. Deep fried with a lovely batter, they had a very crisp cover and were filled with wonderfully soft, moist, tasty, slightly-sweet crab meat. Served with an excellent spicy sauce, it was a phenomenal dish.
The final starter was the Spaghetti with Kingfish – a fillet of Kingfish served on a bed of mashed potatoes and spaghetti along with Mediterranean vegetables and balsamic vinegar. A little on the milder side, the dish tasted wonderful, with the flavours of the vegetables and the spaghetti making it a great combination with the fish, which had a great flavour of its own.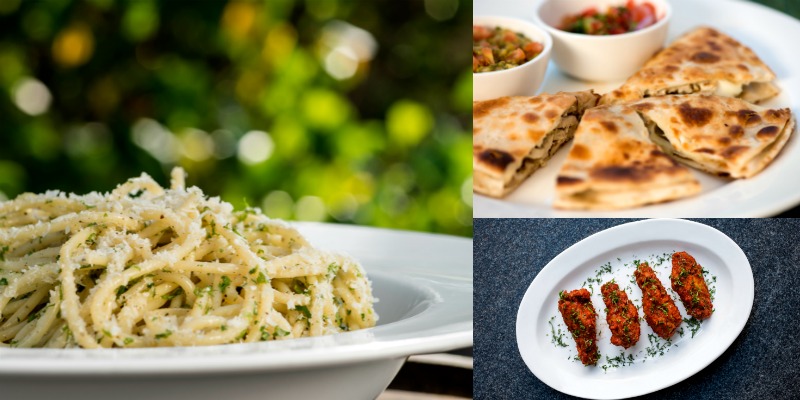 Main course
For the main course we were served four dishes – Chicken Cafreal with Poi, Pork Vindaloo, Chicken Xacuti and Prawn Curry with Rice.
We began with the Chicken Cafreal with Poi. Expertly made, the taste of the cafreal masala (which many tend to get wrong) was absolutely spot-on and tasted wonderful. The chicken was soft and very well-marinated. Eaten in combination with the Poi it was a great dish.
Moving to the Pork Vindaloo, the dish had small succulent pieces of pork served in wonderfully tangy and spicy vindaloo gravy. Served with steamed rice, the dish tasted wonderful and was absolutely outstanding.
The Chicken Xacuti was in word – excellent. The taste of freshly-grated coconut did wonders to the meal, creating a fantastic combination and yet another great dish.
The final dish was the all-time favourite classic Prawn Curry with Rice. An absolutely outstanding dish, the prawn curry was phenomenal – big pieces of prawn with kokum and other wonderful flavourings.
A multi-cuisine restaurant with great food and beautiful ambience, Sol De Goa's Goan menu is a true representation of good, authentic Goan food.

Rating: 8.8
Address: Opposite Bank Of India, Battiwado, Nerul, Goa
Phone No.: +91 832671 4141
Hours: 12:30PM to 3:30PM, 7PM to 11PM
Cost for 2: Rs. 1500