In Conversation With The King Of Indian Comedy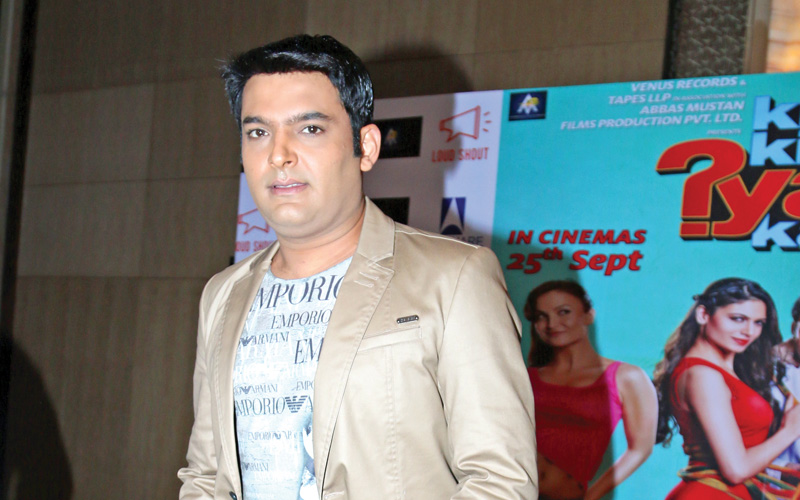 His journey is as inspiring as any struggling actor dreaming of making it big one day. He faced all the tough situations in his life, all the hardships with a smile and that is the reason that now he is the one responsible of making millions of people laugh at his witty one-liners. The 'king of comedy' Kapil Sharma needs no introduction and how he has changed the way people look at the stand-up comedians is commendable.
During his visit to the Capital, Kapil got candid about his personal and professional life.
Excerpts from the interview :
From a nobody to one of the best comedians of India, you have now even starred in a movie – How has your journey been?
I've been very lucky that I've got so much love from millions of people in India and abroad because of which I've been able to reach this level. You just have to be honest about your work and keep on working hard – very hard. And you know what the difference is that even after reaching to this level, I work even harder than before.
 We all know that you love your father a lot. How do you relate to the policeman character you play in your TV show with him as he was also a police officer?
It's not like that. As I lived in police quarters for a long time, I tend to observe police personnel a lot. The way I see them, you might not be able to see them the same way. If you take the example of my father, he has been operated on 6 times, still he had to wake up at 4 am sometimes to perform his duty. Now he is no more, but all his life he has worked very hard. In fact all police officials work hard and I have a tremendous amount of respect for them.
You have an on-screen TV wife as Sumona, and 3 wives in your debut movie; so when are we seeing you getting married in real life?
Uskanahipata! If you ask me about my next film, that I can tell you that it might be coming in 2016, but I cannot tell you about my marriage – only God has the answer to these kinds of questions. Rest, you never know – yaha se baharnikalte hi kar loon (laughs).
 What is the definition of success according to you?
Jab aap se aisesawaalpuchejaatehaitohpkayi log iskidefinition de bhidetehai, but genuinely if you ask me, I would only say that work hard and focus on one particular thing rather than trying different things at the same time. Before getting into comedy, I tried my hand at singing, but eventually landed up in comedy and since then I have been focussing on comedy only. This is the reason that I got so much success and eventually got a movie also. So there's no alternative to hard work and focus.
 Is it true that you had been offered many films before you signed up for KisKisKoPyarKaroon?
Yes! I've been offered many films before, but at that moment I was focussing more on my show, rather than films as it was a new show back then. After 2 years of success with the show, I heard the story of KKKPK and signed the film.
 Do you want to be the part of Hollywood projects too?
I would love to do a Hollywood project. I've improved my English a lot and I'll prepare myself if anything comes forward. Because you need to prepare for the role and you need to have that passion. It is not like I'm dying to do a Hollywood project; I've got immense love and support from the people of India and I would continue to make them laugh.
Have you prepared for the role in KKKPK?
No, I have not done any kind of preparations for the role. When the story was narrated to me, I felt like it was written keeping me in mind (laughs). It was an easy role relatively because somehow the role required me to play Kapil – the way I enact in my show. I could easily relate to the character.
 You started off as a serious theatre actor and then you switched to comedy. What made you switch to comedy?
I used to do serious theatre, but we also used to have a lot of fun backstage; at that moment I didn't know that you actually get paid for the same (laughs). So once I performed comedy at the youth festival and people really liked it and encouraged me to take it to another level. And here I am now in front of you.
 Your debut movie was kind of a continuation of CNWK. So will we see you in a different role in future?
Definitely! Whenever I get the script, I would love to do something different.