Fendi Presents its 2017 Resort Wear Collection
Soft Graphicness
Fendi's Resort 2017 Collection is a portrayal of 'soft graphicness' where sharp and squared geometries, reinterpreted in a kaleidoscopic style, fuse harmoniously with sophisticated flower motifs. A hypnotic play of colours from micro to macro figures that end up being smooth waves outlining the main themes of the collection: the kaleidoscopic graphicness, the waves and the oriental flowers. A collection dominated by optical designs reinterpreted always with a feminine touch.
Inspiration
Karl Lagerfeld's inspiration arrives from red and white American quilts that inspire geometries, colours, workmanships, large volumes and loose shapes.
Fabrics
This world meets a more romantic and feminine mood that is an evolution of the Japanese, botanical wallpaper inspired fabric that is presented in a new black version, together with the precious flower embroideries on rounded stamps and the soft and infinite waves from the Fall/Winter 16-17 Collection reinvented in a fresh and summer version.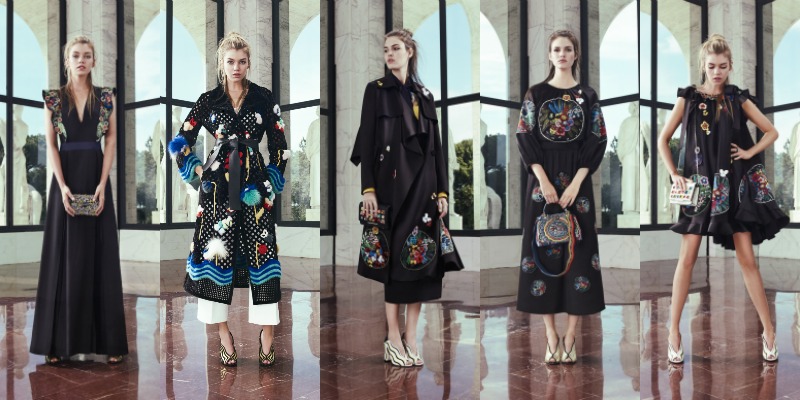 Embroideries
Multi studs, denim intarsia, special embroideries with string and paillettes on organza and silk wool, together with oriental flower embroideries give a romantic yet cool twist to this high crafted collection.
Lengths are either very long or very short with large volumes and loose sleeves.
Double layering features juxtapositions of different fabrics for unique dresses, skirts and overcoats where graphic checks of tulle and laser cut leather overlap on cotton.
Colour Palette
Red and white, royal blue and green, grey and dusty blue, black and multicolours, yellow and beige, present a perfect day and night colour palette for a strong summer allure and a cool and bright woman.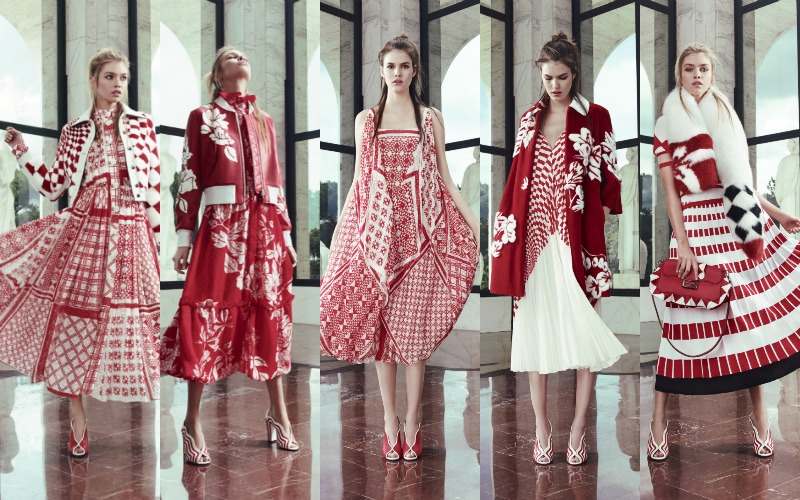 Furs
Furs are also a play of full and empty volumes featuring feminine short mink multicolour waves on tulle for a unique movement effect. The precious long mink fur pierced as a macro net with multicolour flower intarsia is the expression of the unique Fendi savoir-faire and expertise in fur. Short bomber mink coats sport white and red intarsia and leather profiles for a more contemporary and urban touch. Parka and trench coats, iconic Fendi shapes are reinterpreted in a light cotton summer version.
Bags
A romantic feeling in bags is given by raffia straw, flowers, precious embroideries and waves, in contrast with a more rock mood inspired by studs. Iconic shapes such as the Baguette appears in a precious red and white leather version featuring an all-over embroidery on waves, while in the Micro Baguette are in raffia straw with profiles in contrast. The Dotcom Click has a new sliding chain strap, where functional meets trends. Multicolour studs are all over pochettes, Peekaboo and Mini Peekaboo together with By the Way and LEI bag in precious exotic versions. Dotcom Click and Mini Peekaboo dominate the scene in exclusive all over flower embroideries.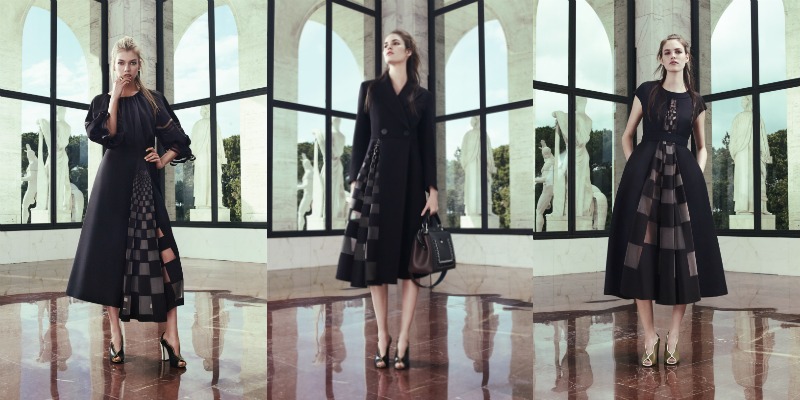 Accessories
Accessories introduce a new never seen before ironic version of the Bag Bugs charms, a small doll-like charm dressed with fur coat miniatures or in a fur pompon version, both with metallic legs and mink slippers, adding a very fun and luxurious touch to the Fendi bags.
Jewellery
Fashion Jewellery is a rainbow studs all-over on delicate gold circular shapes and introduces the new gold alphabet letter initials, ABClick, with a touch of fur that can be used as a necklace charm or as a unique detail to your accessories as bags, shoes and belt for a personalised unique look.
Removable Bag Strap
Strap You, the removable bag strap introduced by Fendi in 2015 already a must have, features unique workmanships as multicolour leather waves, raffia straw fringes, all-over beads embroideries and much more.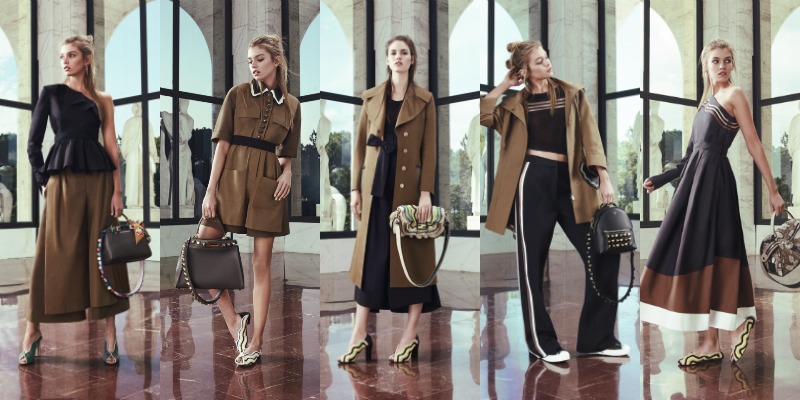 Shoes
Shoes are soft sophisticated flats or high heeled with leather multicolour inlayed waves or in a chic crochet straw version with profiles and colour contrasts.