In Conversation With Actor Turned Producer Neetu Chandra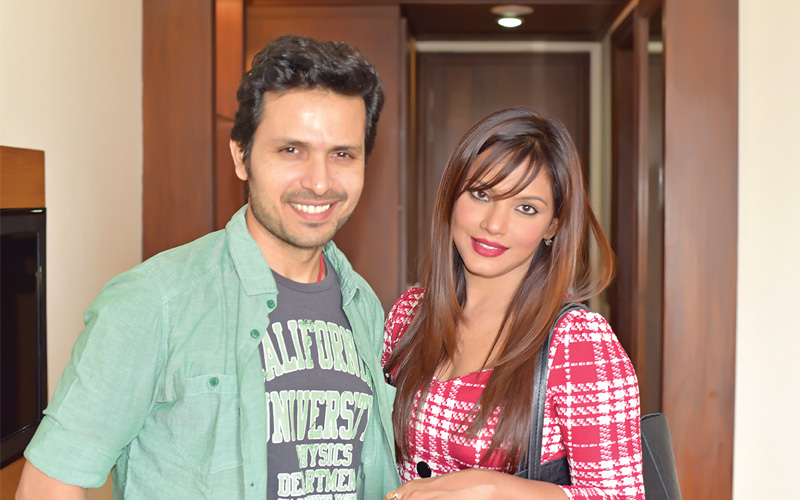 Having made her Bollywood debut in Garam Masala, Neetu Chandra is a woman of many talents. A model, an actress and a holder of two Dan black belts in Taekwondo, Neetu has now added production to her list of achievements. She produced a Bhojpuri film titled Deswain 2011, the Hindi language variant of which was titled Once Upon a Time in Bihar and released in late 2015. Abraxas NU caught up with the actor turned producer for a quick chat when she was in the capital for the promotion of the film.  
What was the thought process behind making Once Upon a Time in Bihar?
My brother Nitin and I were born and brought up in Bihar and we never saw a Bollywood film which showed Bihar for what it truly is. I really wanted to make a film which shows Bihar in a good context and I want to connect with people of Bihar as well as the people outside Bihar to show them what Bihar is in reality because people have that image of Bihar that they might get kidnapped if they enter the state; which is wrong.
That is why my brother Nitin (who directed the film) and I made the movie Once Upon a Time in Bihar. We also roped in singers like Sonu Nigam, SunidhiChauhan, SwanandKirkire and MohitChauhan for the same.
Do you think that these types of films will change the mindset of the youth?
Well, we have started it – somebody had to start. Bahutsaare log kehtehaikiBhagat Singhkopaidahonachahiye, par apnegharmeinnahi, padosike. I think humneBhagat Singhkoapnegharmein hi paidakiyahai. So let's do it. We have only one life and I don't know how to live life in a planned way – I only know how to live a risky life.
Tell us something about your initial years in Mumbai.
I came to Mumbai with nothing in hand and I didn't even know one person in Mumbai. Of course it was tough to survive. I had got admission into Delhi University and had started my initial modelling career but it was not what I wanted to do. I have always done something which has creatively given me a lot of satisfaction and respect. So since I didn't want to be in modelling forever, I moved to Mumbai since whatever I wanted to do was only possible there.
I remember I was doing an ad with Amitabh Bachchan, and Priyadarshan who was the director and it was then and there that he offered me Garam Masala. I was really surprised and happy at the same time because I was not expecting this at all. And I think I am the only 'Bihari' girl at that time who ventured into films.
What do you like more – theatre or films?
I'd pick theatre any day, but there's not enough money in theatre. I want to balance between both films and theatre. You can approach the masses while doing films and when you gain enough popularity with films, then you can opt for theatre for your own satisfaction. However, you set up your base for acting from theatre.
You have become versatile now – you're an actor, you're a producer, you're a model, you're a kathak dancer and you're a martial artist too. How do you balance all of this?
I don't consider myself to be a model. I used to do TV ads and because of my height I didn't get many modelling assignments. You only have one life to live and mazaatohtabhihai jab hum rozalagalagzindagijeeye. Everybody doesn't get the chance and when you get the chance you should not leave it because there isn't always a second chance. I never got anything handed to me, I had to prove myself in every movie.
Which role do you enjoy the most?
Since I have been a sports girl from childhood, I have that spirit in me wherever I go – that's why I did theatre. Sportsmanship is my driving force and it has been inculcated in me by my mother. Winning has always been my habit.
How do you take criticism?
Oh I love it! The more you criticise me, the more it brings a smile to my face. So thanks for making me smile.
Do you believe in destiny?
Yes! Main to bahutbadipujarihoonand destinykebina to kuch ho hi nahisakta.  I see people planning a life for 5 days, even 5 years from now, but I believe that if we are planning a life for even 5 days, it is like challenging God. I keep telling the universe to keep giving to me and I'll follow your path and that is why for more than 2 years I haven't done any Hindi films. I don't want to do films which show me in a way I don't want to be shown.