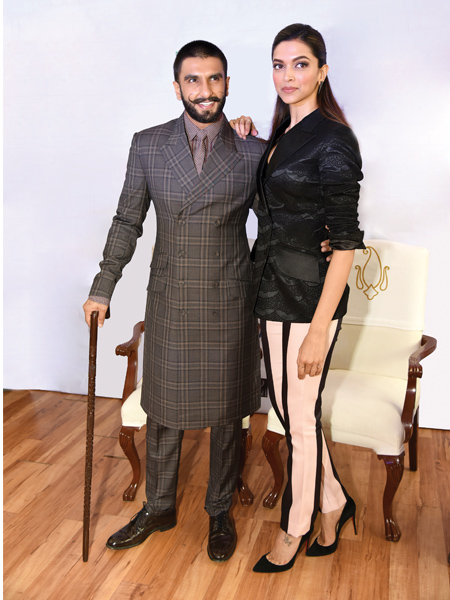 Abraxas NU recently caught up with the lead cast of the epic love story Bajirao Mastani for a quick chat about the film and how the stars prepared for "the most difficult characters they have ever played."
Is this the first time we're seeing you play a historical character?
Deepika: I have been a part of a period film before. I did a film with AshutoshGowariker titled Khelein hum JeeJaanSey which unfortunately didn't do well at the box office. When I was doing the film I understood that the film has an important story and it is necessary for us to convey it to the viewers.
How did you prepare yourself for your role in BajiraoMastani?
Ranveer: Our director provided us with a copy which had information on all the characters and the rest of the information about the characters was in the script which was written by PrakashKapadia.
He's a great writer and has worked with Bhansali in Devdas. And yes, it was one and a half years of very difficult work – Bajirao has been the most difficult character and the most difficult film that I've worked in. Had it been more difficult, I still would have done it because I have grown as an actor and as a person. It has really changed me and was a lifetime experience.
Deepika: It was definitely the toughest film of my career so far. Physically, mentally or emotionally – it was extremely grilling. That's the nature of the film, and that is the nature of the director that we working with – he is very demanding and he is never happy with what he sees the first time. He is extremely clear about what he wants and within the process he pushes you to look within yourself and discover things about yourself. But in that process of being a hard task master, you learn so much about yourself and explore the zones that you didn't even know about yourself. So when you see the end result, you will feel it is worth it.
Do you feel that the love story of Bajirao-Mastani is much better than other love stories we have come across like Heer-Ranjha and Laila-Majnu?
Deepika:I think that every love story is unique so you can't really say which one is bigger, which one is more iconic or which one is more epic. I think somewhere they've all sacrificed a lot to be with each other so I would not like to compare stories. But I would definitely like to say that just like Laila-Majnu and Heer-Ranjha inspired us with their love, I think Bajirao and Mastani will also inspire all of us.
Is BajiraoMastani the biggest film of your career?
Ranveer: The kind of scale, the kind of mountains and in terms of budget it's the most expensive film. There are wars and you are dealing with subjects that have a large scope. The visual spectacle in Sanjay LeelaBhansali's film is a very rare one. It makes BajiraoMastani stand out among other films – the kind of detailing and the whole magnitude of the big screen offering. Also, even with these kinds of stories, the emotions, the time of the rise of the character and all the significant moments that are in the film make this a very universal story of love. You all will be surprised to know that every time Sanjay wanted to make a film after Sawariya, he wanted to make BajiraoMastani.
We've read online that for Sanjay LeelaBhansali, the sets and costumes are the main lead and the actors play the second lead. So what kind of effort did you have to put in to make a mark on the set?  
Ranveer: That is what we do as actors. We have the responsibility to justify the emotions that the character asks you to portray on screen. The speciality with Bhansali is that once everything is set and the camera starts rolling, he doesn't look at anything else but the actors. So he only sees us from where that emotion comes from. So all the credit goes to him and he is a premium filmmaker who really knows how to get the best out of an actor.
Was there anything that you wished to take back with you once you completed filming BajiraoMastani?
Deepika:I think I really wanted to take all the costumes that AnjuModi created for me. I have portrayed so many characters in my films and I want to thank the amazing designers that I worked with. They've created some very memorable looks – be it Om Shanti Om, Cocktail, or Ram Leela.
Ranveer: I think when the looks of DeewaniMastani came out, a couple of weeks later there was a wedding in Delhi of a family friend and the bride's mother danced to the same track. She was even dressed like Mastani. I think all the credit goes to AnjuModi's dedicated designer team. She is an absolutely brilliant person to work with. The trademark of Sanjay LeelaBhansali's film is that the costumes, drama and sets are always something to look forward to.
How would you define your personal sense of style?
Deepika: I personally believe that it is very boring (laughs). I really don't believe that I have any sort of personal sense of style and that is why I think I am dependent on designers like Anju who are doing a tremendous job. I think I'm fortunate enough to be in the business where you have access to such people. The other thing is that you are constantly getting ready for red carpet, or for some event, for films, for advertisements – you are continuously styled all the time and when at the end of the day I reach into my wardrobe at home, I realise that I only have jeans and t-shirts. I don't put that much effort on my own into dressing up on daily basis. I am also the kind of person who wants to be comfortable while dressing up. Lately I tend to be dressed in gym wear or active wear whenever I am not shooting just to be comfortable.