From horse riding to boxing, Ali Fazal has done it all.
You were already into theatre. So what made you land up in Bollywood?
Ali Fazal : No actually I wasn't into that much theatre. I started doing a little bit when I was in class 10 or 11 in school. I think it's unfair because there are so many people out there doing real theatre and I've just stroned away from the art. I did it because I was in a boarding school in Doon School Dehradun, and I broke my arm; I used to play a lot of basketball and hockey. I've told this story so many times I know it by heart now (laughs). Because everyone asks me this question you know "How did you get into acting?" because everyone I know has dreamt of becoming an actor.
Did you ever dream of becoming an actor?
Ali Fazal : I didn't actually because I didn't belong to that school of thought. I wanted to be a pilot. So I was training and I got my private pilot license as well and then suddenly I remember my dad telling me that "chauffeurgirikarnihai, nahi don't do that". So yeah.
Can two film stars be good friends? Honestly
Ali Fazal : Yeah if they're smart enough. I think Shahrukh and Aamir are great friends. But we see this animosity outside everywhere, but they're smart and they're great friends. Nobody knows this. I've worked with both these guys and it's funny to the point of being like one of the biggest jokes played on everyone. It's amazing. So of course they can be, if you accept competition that is.
Any incident with a female fan?
Ali Fazal : 2-3 of them. Really obsessed ones. One landed up in my Lucknow house all the way and I'd gone for Eid. Luckily I missed her. She had landed up with a couple of friends and the press. I think it was Times Of India or something. Just to take that moment of her hugging me. And she wanted that on record. And it was just mad. Also there was one who sent me a message and details of her father. And she was saying "Please can you get in touch with him?" Because in her head we were married (laughs). We were done. She had planned our life out. Like list of names for kids! (laughs). I have no clue where she was from; I just got that message on Facebook. She was like "I've been stalking you since Xaviers time or whatever"
Were you an obsessed fan of any star when you were young?
Ali Fazal : Never been.One guy. And that's Al Pacino. It's a little clichéd now because half the people out there love him. But I've religiously followed these two people; Robert De Niro and Al Pacino. And I got a chance to meet him also and I might be shooting a short film with Pacino, next year sometime.
Did you have any crush on any filmstar during your teenage years?
Ali Fazal : Hell yeah. 3 of them, Madhuri, Sridevi and Kajol.
Did you tell them?
I couldn't. I've only met Madhuri.
   "During Promotions of Always Kabhi Kabhi, I remember someone said  "Tera naam kya hai?"
Any embarrassing moments?
Ali Fazal : Always KabhiKabhi I remember. We'd gone for promotions and you know there was a huge crowd I think and someone popped in and said "Tera naam kya hai?". Which happens all the time. It happens with Ali Zafar and me. It's like I'm graduating one by one (laughs).
According to you who will be the next big star/s?
Ok keeping myself aside, I think…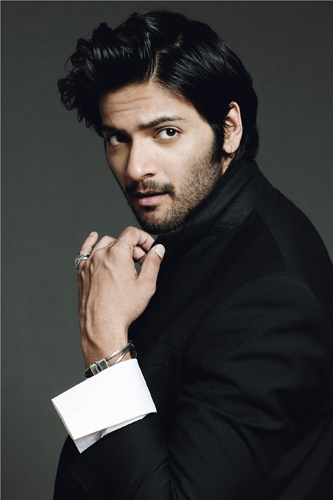 Why are you keeping yourself aside?
Ali Fazal : Because I will be there with these guys very soon. Mein phailgayahoonabhi. I think Varun is pretty good. He has great presence I think. I haven't really seen much of his stuff. Alia Bhatt. I think Richa Chadha. I think Siddharth is good. Yeah he doesn't have a godfather (laughs). He's a good looker I think. I haven't seen the movie Ek Villain, but I will check it out. I heard Riteish was damn good and I'm a huge fan of Riteish so yeah. Shit I really can't think of any other actors; who else is there? I don't know actually. Great then, awesome. It's me all the way! (laughs)
Who would be the girl of your dreams?
Ali Fazal : I haven't dreamt that dream yet (laughs).
What are the qualities that you are looking for? Beauty or brains or the combo?
Ali Fazal : I think beauty and brains definitely. Combo right? See it's the visual. No matter how humble and how cool we might want to sound, at the end of the day visually it's the vibe that sort of attracts you to someone. And then of course you get to know them. But it's also this unpredictability, that kind of thing that you want to be surprised. I don't know.
Do you believe in love?
Ali Fazal : I'm a romantic. I'm a Libran. They're diplomats and they love the conflict of love. They will always be topsy-turvy with their love life. So if something is going straight, they'll want a conflict. It's weird. I think actors have that; we love drama in our life. We won't do it straight but we will like rearrange things around our life so that this cup falls.
Do you believe in love at first sight?
It's a lovely thought. I'd like to believe it. I don't think it happens. I don't know.
Okay I'll put the question like this. Love or lust at first sight?
I don't like that word lust. It's very negative. If somebody judges you; you're lusty. Imagine! (laughs).
It's definitely there. I think that want for a sexual escapade. At first sight? Let's stick to love (laughs).
But if I write lust at first sight the readers will love it honestly. They also love drama.
Ali Fazal : I think if you can use another word instead of lust, then why not? Jump at first sight. Yeah! I think that's a good one (laughs).
So what do you like in a girl? Body or face?
Ali Fazal : I think it's all in the eyes. The truth in someone's eyes. It boggles me. This is embarrassing. Two women sitting next to me and I'm talking about…Well I have no choice but (laughs). So I think one of the most sensual parts that I think is attractive about a woman is her eyes and her neck and it's the world. The world begins here. Right here. It's the seed of every fucking thing, I'm telling you. Love lust anger. Everything. This is the damn centre. This dip here. For everyone but people just don't know about it.
Any other interests as well?
Ali Fazal : Lots.Horse riding. I love horses. Driving.But car racing, not the regular driving.
Any two qualities of yours which you really admire?
Oh mine? I think I'm a great listener. Can sit and listen to people. And that's really important because I think even as an actor; lots of actors I've seen get lost in their own dialogue. They're thinking "Arremujhebhibolnahai, yehzyaadakyunbolrahahai?" But what they don't realise is a major part is actually listening. My first thing in Fukrey was to make me mute instead of giving me dialogues; I would have had a better impact doing that than having the character I played. Second I think is…it's a negative thing; I can't judge people. It kind of gets me into soup sometimes but I have an opinion. I don't think that works.
What do you not like about yourself?
My temper. Because of that I've got beaten up a lot in my life. Like really I don't have that sense of knowing that there're 8 people, you cannot handle 8 people so…. (laughs). That's why I became a boxer in school. I got overconfident. I got knocked out by this guy half my size. I let my guard down. So even till date I can't breathe from one side of my nose.
If you had to land up in a remote land with the girl of your choice. Who would it be?
Ali Fazal : Actress you're looking for na? I don't know why I can only think of Kajol right now (laughs). She's just perfect in everything. A great actor, mother, wife.
Your all-time favourite Hollywood or Bollywood film?
Ali Fazal : Hollywood film: A Streetcar Named Desire. Bollywood film: any of DilipKumars. And Amitabh ji.Deewar is again one of my top favourites. It's one of the only films that translated from paper, the exact same way onto the screen. No changes. It doesn't even happen today; people change. Idharudharkuchhojaathahai.
Five essentials in your wardrobe
Ali Fazal :  My leather jacket.My mum's photograph. I don't know why, it's been lying there; it's like a lucky thing. It's a 100 dollar bill that's been lying there for like 8 years now.