Game of Thrones Season 5 so far
The season 5 of Game of Thrones was eagerly awaited by all, and when the first four episodes of the season were available online, the fans did not miss any opportunity to make a full use of this lead. Most of the fans ended up watching all the four episodes in one go. Although, it did take some shine away from the series, as many fans did not feel that the season had started. It felt more like an extended version of season 4.
For starters, for many fans, the season seems to be a tad bit boring. It lacks the thrill which the other seasons have offered so far. Most probably the high point for this season so far is the city of Bravos. The storyline is slow and uninteresting. Maybe we are too used to the cold and the dark world of Westeros, that sun and sand do not really excite us. Even the major characters are beginning to change their nature. Jon Snow is becoming more mature and has proven a point that he is a leader who is wise and does what is necessary to get the job done. As far as Daenerys Targaryen is concerned, she seems to losing it. She was always a strong leader, but when she gets one of the masters killed by her dragons, it just goes on to show that how desperate she is when it comes to keeping her power. Some of her traits are quite similar to Jeffory.
Arya Stark seems to be more resolute than ever. She is willing to change herself in order to become. She seems to be more focused than ever before and is willing to go the distance to get what she wants. The House of Black and White and the Faceless men are some of the new features that Arya comes across this season.  Here again she tries to become a good student of the Faceless men. Only time will tell what becomes of her and how well she has trained herself. It is here where she will learn to become 'No one'.
Another character which seems to get into the prominence is Ramsay Bolton. With each passing episode, he seems to be becoming more and more of a sadist.
Perhaps the most interesting aspect of the show is when Jorah Mormont kidnaps Tyrion and plans to take him to Daenerys.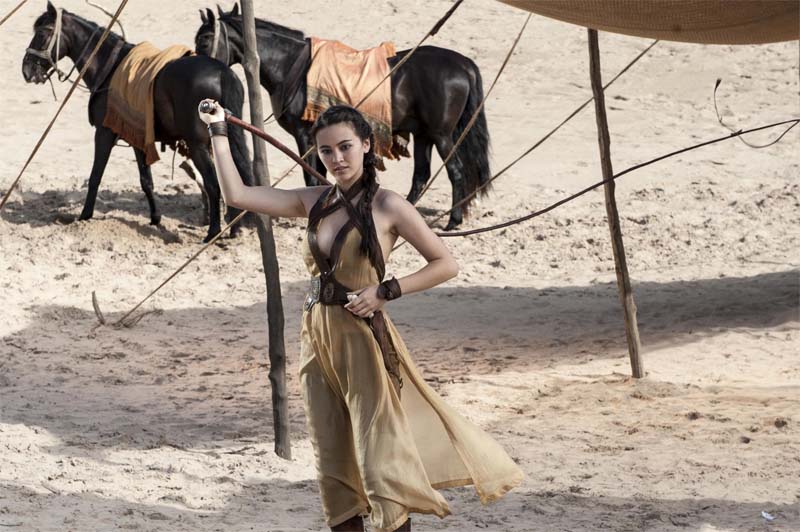 We are also introduced to the daughters of Oberyn Martell, who plan to exact revenge of their father's death.
Overall, the season has a lot of new characters and a lot of plot twists, but comparing it to the other seasons, it might just be a tad bit boring. Another thing can be that it is slow build-up to the general scheme of things in the season. The fact that first four episodes were on torrent might have played the spoilsport.
For regular updates on Game of Thrones season 7 online, visit our social media pages by clicking the options below:
Upcoming season                                                                    Upcoming Episode
Game of thrones season 7 online                               Game of thrones season 7 Episode 1 online
Facebook
Twitter
Instagram
Pinterest