The most awaited upcoming mid-range cars in India
In the recent years, India has become a huge market for a lot of car makers, especially in the compact SUV sector. All the car makers in the country are working towards providing the best mid-ranged cars to the critical Indian middle class. The competition between the compact and the sub-compact segment is the most.
Here we bring you the list of upcoming cars in India that fall into this category and range between 5-6 lakh, which will be launched in 2015 or 2016.
Chevrolet Beat Sedan: The first and foremost in this segment is the Chevrolet Beat Sedan. The sub-compact sedan has grown tremendously in India and Chevrolet plans to take full advantage of this situation. It will be based on Beat's M300 platform. There will be structural changes, which will make the look the sedan manlier. It might come with a 1.2 petrol engine and a 1.3 diesel engine. It will also have a 5-speed gearbox. Price range: 4.5 lakh to 6.5 lakh
Honda Jazz: Jazz failed to ruffle the feathers its target group when it was launched a few years back. The new Jazz will have a changed design and a new diesel engine, which might change its fate in India. Honda has already started its production. It will come with a 1.2-litre I-VTEC petrol engine or a 1.5 –litre diesel engine. The engines are same as Honda amaze. Price range: 4.5 lakh to 8 lakh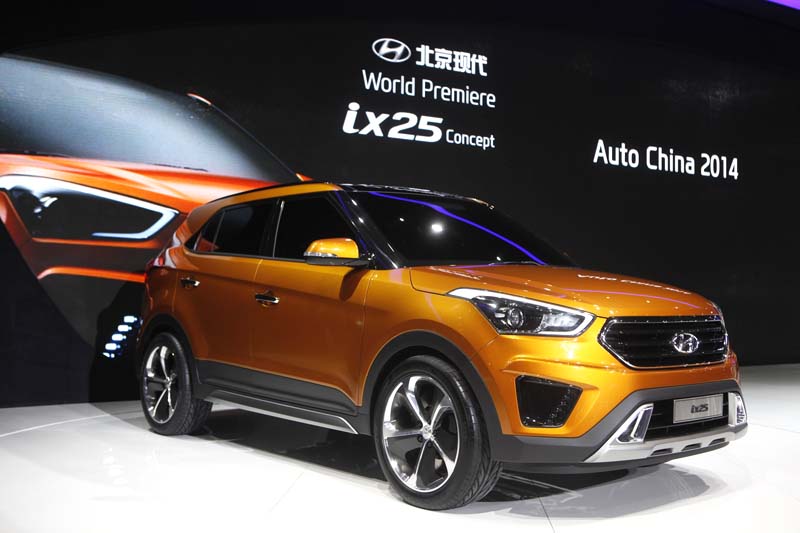 Hyundai iX25: ix25 is perhaps the most anticipated SUV in India. The production model of the SUV was unveiled at the 2014 Guangzhou Auto Show. The design is based on Hyundai's 'Fluidic Sculpture 2.0' design.  The SUV will measure4270mm in length, 1780 mm in width and 1630mm in height and will have a wheel base of 2590mm. It is slated to launch in the second half of 2015. The SUV will be equipped with 1.4-litreVTVT petrol engine and a 1.6-litre CRDi engine. Price range: 7.5 lakh to 11 lakh
Hyundai 120 Cross: Hyundai is all set to introduce its successful hatchback's i20 crossover version – the i20 Cross. In terms of changes from the previous version, the crossover version will get bigger alloys, a few additional body parts and a more feature-rich cabin. Price range: 6 lakh to 8.50 lakh
Maruti Suzuki SX4 S-cross: Maruti, India's largest carmaker is also planning to venture into the crossover/ compact SUV segment. Maruti plans to launch a crossover version of SX4 called SX4 S-cross. As there are no crossovers or compact versions in its current line-up, it is perhaps a good move. Also, the fact that this particular segment has gained popularity in India, it might just work for Maruti. The SX4 S Cross is expected to get a 1.3-litre diesel engine and a 1.4-litre petrol engine. Price range: 6.5 lakh to 9 lakh