Greek Romance – Fashion of the Gods
Piecing together ancient traditions and deriving inspiration from Indo-Greek cultural fashion and communities of Kinnaur, the line is full of exquisite cuts, flared silhouettes and regal embellishments.

About the collection
A line of extremely regal kaftans, boxy dresses, gowns and ruffled jackets. Embroideries, intricate detailing, exaggerated shoulders, smart cuts and his famous blood red lining were some of the high points of the line
Theme : Kinnaur Queen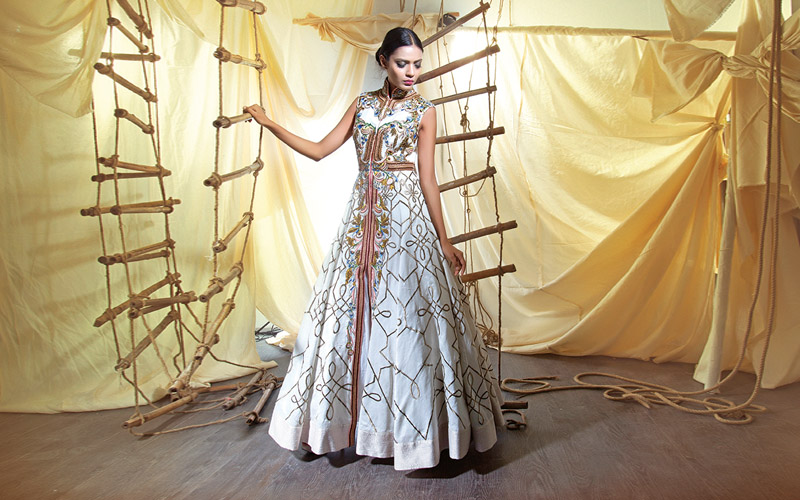 Inspiration
Inspired from the Indo-Greek cultural fashion, the collection drew inspiration from the many centuries of intense and rich Indo-Greek cultural exchange. "This collection takes you back to the fascinating era of Alexender's encounter with Porus on the banks of River Hydaspes, now known as Jhelum. It also captures the deep impact of Alexander's marital ties with Kinnauran lifestyle and the culture of the people in the region even to this day," stated the designer.
High Points
Gorgeous flared gowns in sublime whites fit for Roman Royalty with rich Indian motifs and vibrant embroideries.
Ceremonial wear in voluminous cuts and tailored details
Chic details in flared silhouettes, with motifs from the pine forests of Kinnaur, in classic whites.
A subtle play of rich Indian embroideries on lush silk and organza fabrics in long flared silhouettes.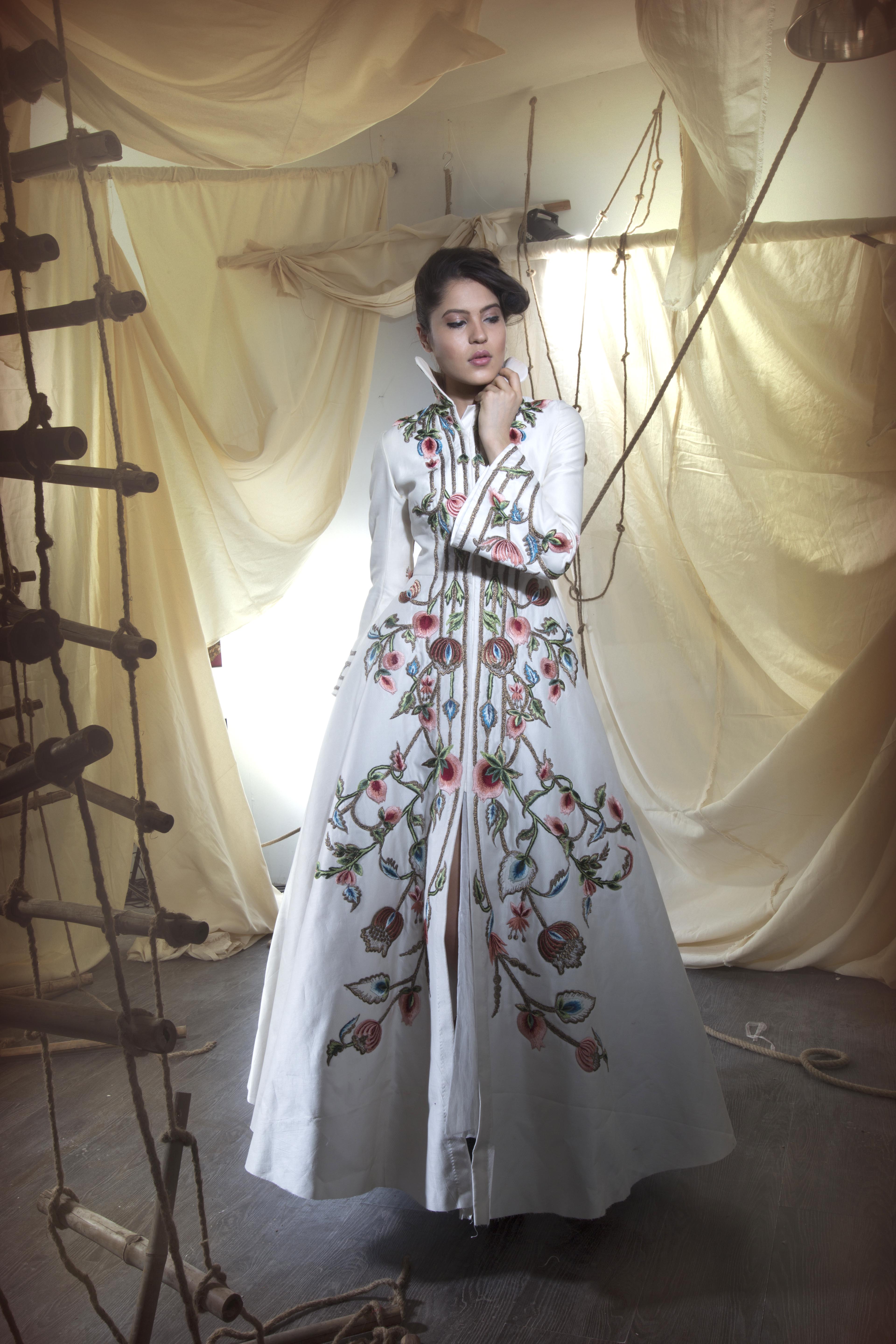 Word from the Designer
"Lot of hand work has been done on the collection especially the hand woven fabric. The colours are primarily off white as we don't encourage colour. In my village (Bhagalpur in Bihar) there is still no process of producing colours hence this idea. Also my fabrics look better in natural form."
Credit
Show Director: Asha Viddhun, Back Stage: Vabhiz, Make-Up & Hair: Ambika Pillai, Jewellery: Sunar Jewels
Sound: Madhav Shorey, Light: Llyod.
ABOUT THE DESIGNER
Samant Chauhan :His line remains simple, basic, clean-cut, natural and functional, yet contemporary and he loves working with natural fibres. Fashion to him is not just a popular trend, but a very basic form of representation that is always conceptual.  He strongly believes in exploring his native Bhagalpur skills working with the weavers in innovating new fabrics and newer designs. His patent colours remain very earthy – the shades relating to nature. The label, 'SAMANT CHAUHAN' has come a long way in the fashion world, selling at several high-profile stores globally.