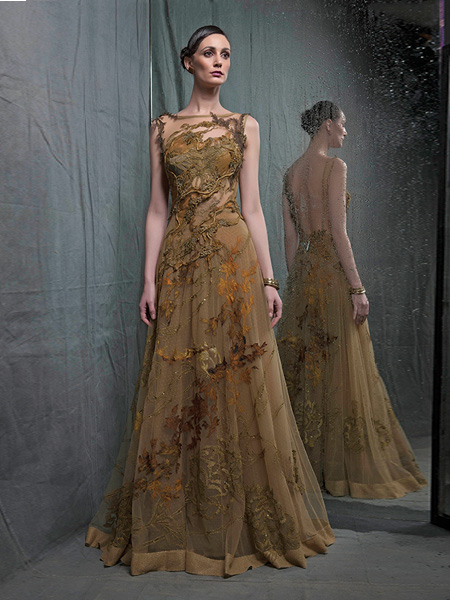 Based on global concepts catering to women for their femininity and delicacy, SulakshanaMonga has revived and reinterpreted Zardozi handwork in an unexpected way. She ensures that she does something unique and creative with her designs and outfits that makes her stand out from the rest of the bandwagon.
 Inspiration
Floral designs on vases which depict traditional European art & design.
Concept & Details
The rich, decadent detail of old luxurious paintings is set against the vintage silhouettes. A colour return to the living rooms of the 1970's, reclaiming the avocado green, orchid and mint is also a big part of this collection. It is the vision of spring/early summer weddings and has pretty undertones of vintage style. Keeping in mind versatilities of silhouettes for the global women of today, her design aesthetics are blended with natural floral designs with Indian sensibilities, the large scale floral digital prints are highlighted with hand embroideries to create an eclectic look.
Rayon crepes and cotton handcrafting in the shape of vases, silhouettes are amalgams of Indo-Western classic fusions intricately embroidered with unique classic methods of asymmetric detailing on gowns, lehengas and dresses. With respect for old world craftsmanship, SulakshanaMonga always incorporates new ideas in her designs. The Collection is planned with a vision of contemporary Indian clothes in the luxury prêt segment.
ABOUT THE BRAND
Soltee from the soul of Sulakshana Monga are manufacturers of high quality garments. The company was formed 21 years ago and comprises of a team of professionals with extensive and proven experience in garment designing and manufacturing. Soltee specialises in the manufacturing of ladies hi-fashion garments both Indian and Indo-Western, with a varied world-wide client bank and with its own edgy design team who are able to stay at the forefront of fashion.