AAP breaking all the rules of campaigning
With Aam Aadmi Party winning the Delhi assembly elections in a spectacular comeback, people have reinstated their faith in AAP. In the 2014 Lok Sabha elections, when AAP did not mage do even moderately well, it was a party that most of us written off. But as the saying goes, 'never underestimate the power of common man', Kejriwal and his party bounced back and won the seat in Delhi again. There are a number of reasons why AAP managed to win the Delhi seat back.
Some of the reasons why AAP managed to win the Delhi seat: 
Arvind Kejriwal's image: Kejriwal's image had taken a beating, when he had resigned the seat of Delhi. People had high expectations from him, and when he left the post people, were disappointed, they felt betrayed. What Arvind Kejriwal did next was unthinkable when it comes to Indian politics. He apologized for his mistake. He even claimed that he had made a mistake, but it was not a crime.
Stand against corruption: One of Kejriwal's biggest assets is his willingness to fight against the deep rooted corruption in the system. People who suffered the most from the corruption were the common man and daily wage earners, and Kejriwal is the champion of the common man. His promise to get rid of the corruption really worked well with the common man. And people know it, that he will do his best to eradicate the corruption.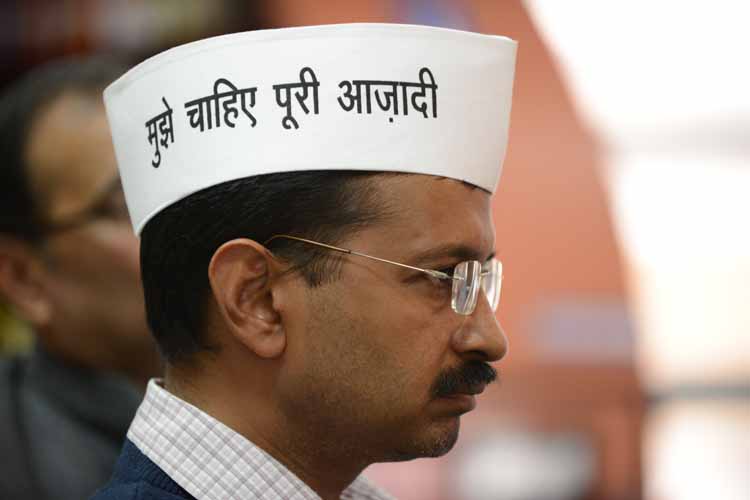 Open Debate: Kiran Bedi defecting to BJP was perhaps the most talked about issue before the elections. Since the time she joined BJP, the whole campaign revolved around it. Perhaps Kiran Bedi defecting to BJP did AAP more harm than good to BJP. When Kejriwal invited her for an open debate, she refused his invitation. This step by Kejriwal and Bedi's unwillingness to do an open debate with Kejriwal, worked in the favour of AAP.
Collapse of congress: One of the major reasons why AAP won and managed to get a good majority of the seats was because of the collapse of Congress. Almost all the vote banks that were of Congress went entirely to AAP. This major shift of the vote banks to AAP uplifted the party manifolds.
Started the campaign much earlier:  The AAP machinery, after the 2014, Lok Sabha debacle, started working strenuously towards the next assemble elections.  The Volunteers of the party started to work in October itself. They started their door to door campaigning and this made a personal connect to the voter. The street corners meeting were a huge hit among the voters, as the party leaders and the voters came together. The leaders personally met all most of the voters, which is quite a rare phenomenon in the Indian politics.
For regular updates on AAP [aam aadmi party], visit our social media pages by clicking the options below:
Facebook
Twitter
Instagram
Pinterest