Look and feel your best this Valentine's season by indulging in these rejuvenating spa treatments
at Vyom Spa at RadissionBlu, PaschimVihar.
 Pevonia Aromatic Silky Skin Body Scrub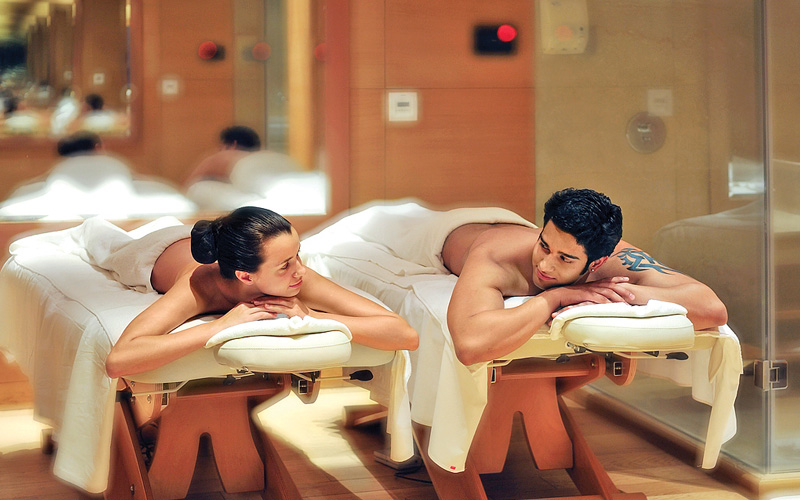 This is the first step for a successful body care programme. Gentle and deep cleansing, it eliminates dead cells, superficial toxicity, impurities, and sebum accumulation and renders dry and rough areas soft and smooth, resulting in a mineralised more youthful skin. Recommended for all skin types.
Benefits:
Smoothes and softens, removes impurities and rough skin, refines the epidermis and detoxifying.
Key Ingredients:
Chamomile, sage, rosemary, allantoin, saponaria and micronised seaweed
Price: Rs. 2,500 + Tax
Sabai Hot Stone Therapy (massage with hot stones)
The next step is a unique hot stone massage with micronised mineral oils (Pevonia Micro-Emulsified Oil) of malachite and zincite delivers an unsurpassed mineral therapy which deeply nourishes and rejuvenates the skin, while the heat from the stones radiate through the aching muscles and joints. The ergonomically designed warm stones help deepen the relaxation of the muscles.
Price: Rs. 4,500 + Taxes
Duration: 90 minutes
Tropicale Escape with Papaya-Pineapple Crème Fraiche Wrap
Nourishing and repairing, this exquisite tropical body wrap counteracts dryness, premature ageing and sun damage by delivering smoothing and rejuvenating benefits. Drenched with papaya and pineapple, it is also enriched with crème fraiche natural butter, calcium, a high content of vitamin A, pomegranate extract and other anti-aging ingredients such as collagen polypeptides (smoothing) and elastin polypeptides (firming). The skin is deeply nourished and rejuvenated, revealing an astonishing decrease in body roughness and wrinkles.
Benefits:
Nourishing, rejuvenating and repairing, repairs sun damage, wrinkle-smoothing and counteracts premature aging.