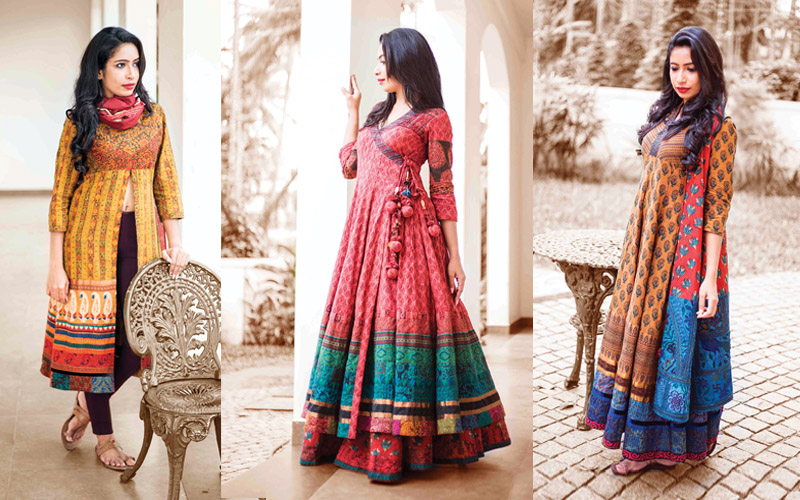 The fashion zeitgeist has been ruled by western colour names from days beyond recall. A designer's savoir fairerests on her ability to use colours to her advantage and spring surprises on a discerning audience. Many years ago, fresh out of design school and caught in the turbulence of these confusing swirls, I could barely spell chartreuse, pronounce cayenne or visualise celosia. Colours inspire, colours heal and colours soothe, they said very grandly. But wisteria left me bewildered, sangria confounded and puce disgusted. Bravely persevering on, I've knelt at the high altar of cerise, paid my respects to the desert sage, and nodded obsequiously at the resurgent pink champagne. The journey has had its moments. I've rubbed shoulders with the neo-luxemarsala, hung out with the easy-breezy canary and tangoed with the uber-trendy tangerine.
However, for all my persistent efforts over the years, these deracinated hues, alien to tongue and heart refused to strike a chord with me. Therein began my quest for colours native to my soul; a pastiche of shades that stoked my imagination and fired my creativity, with a tableau vivant of our land, its people and gods. If Krishna is blue, then Rama is green, a glorious samundari green. Borrowing from flora and fauna, culture, myth and legend alike; a palette older than time itself was brought back to life for this collection. Anar is a blushing pomegranate; kamal, a pink slightly shy of red; gulabiis the shade of a full blown rose; jamun, a dark purple; even a bold Rani, who balks at the need for an introduction. Paeans have been written about Shakunt – the blue jay, Pushkar – the mythical blue lotus, and Neel, so reminiscent of Bengal's blue rebellion. There! A semi-precious firozi flashes its brilliance as ambar of misty skies flaunts a song in its praise.
Kumkum, mehendiand haldi – resplendent marks of bridal splendour carry in their bejewelledpotlis, tradition and hope. Another trio – the orange sentinels of good health – santari, gajari and kesarireel back to make way for a twirling hot jalebi.  The stately saletiis a grey matched in demeanour only by the venerable badamibrown. The sensuous black kohl smoulders far more than its sound-alike, and the solemn chhaya stands overshadowed by none. But bedazzling everyone is the luminary of the grey scale – malaiwhite, for a humble matka in one of the world's oldest cities, brimming with rich, creamy swirls of goodness, has enraptured my senses. The gossamer texture of its contents – feather-light on the tongue, its heavenly fragrance, evanescing even as it wafts in, and a melt-in the mouth taste, completed my search for soul-aggrandisingcolours from the heart of India. Now tell me, dear friend. Does ecru do the same thing for you….?
ABOUT THE DESIGNER
Shalini James did Fashion designing from the National Institute of Fashion Technology, Chennai. In December 2002, she founded a company in the living room of a house in Cochin and named it Shalini James' Mantra. Simply put, Mantra is a firm that designs, manufactures and sells clothes that appeal to Shalini.