Because All of Us Are Just Disney Princesses at Heart
I cannot count the number of times I have raided my mother's cupboard to pick out a dress, a sari or even a beach sarong to turn it into my very own ball gown. Ready and gorgeous, (totally ill-fitting, but twinkling 7 year old eyes and smile makes up for it) twirling around the house while watching Disney movies.
Absolutely nothing felt as enchanting as being able to feel like I was a part of that world.
Let's face it, at some point in our lives all of us girls have done that/hoped for it, whether it's at 11 or 21 (Guilty as charged).
While for some of us, the kinds that have to attend fancy red carpet events and have a bunch of stylists and designer friends at their beck and call, (yes I am talking about movies stars and celebrities) have the opportunity to make these moments come to life. Oh the advantage they take of that!  Colourful gowns and dramatic silhouettes, it's almost like they raided the Disney wardrobes. But who can blame them?
So with just a sliver of envy and a lot of awe, here are all the moments when your favorite celebrities especially our Bollywood bombshells flawlessly resembled your favorite Disney princesses (Well, at least most of them).
Rapunzel (Tangled)
Katrina's luscious locks have always been a source of envy! And for all the right reasons, taking advantage and perfectly completing the look with this beautiful Georges Chakra dress we have our very own B-town Rapunzel in flesh and bone.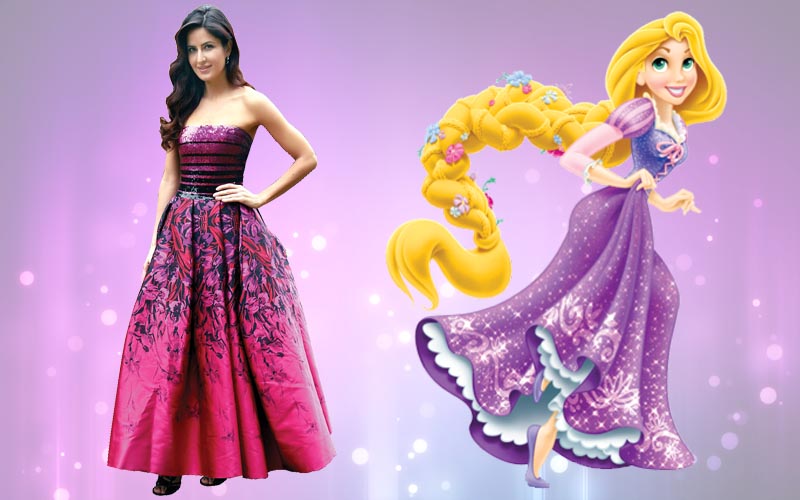 Belle (Beauty and The Beast)
It's been headlined on every tabloid, and this piece could not be complete without mentioning Alicia Vikander, the real-life Belle in this custom Louis Vuitton gown.  The Danish Girl star not only won the Oscar for Best Actress, but definitely all our hearts. I'd definitely want to look like a princess if I were winning an Oscar. An overall fabulous choice, including the hair, makeup and accessories.
J-lo in a stunning Giambattista Valli Haute Couture gown and Parineeti in a structured Monisha Jaising ensemble come in second place for channelling a more modern day equivalent of Belle. All I have to say to both those ladies is Tuestres belle!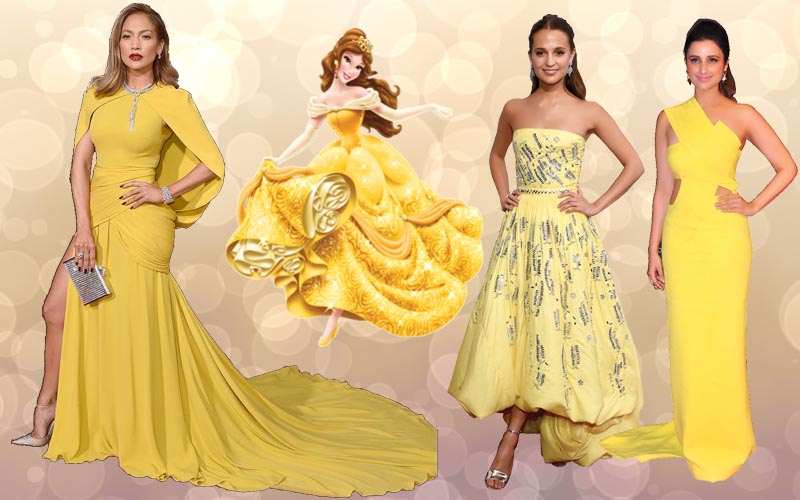 Princess Jasmine (Aladdin)
Deepika definitely not just meets but transcends the Middle Eastern vibe in this stunning Anamika Khanna ivory jacket lehengas.  I definitely see a lot of Jasmine in there, especially those big hazel eyes, there is no one who could match up better!
(To be honest, there would be no one more perfect for Aladdin than Ranveer, either! Yashraj/Dharma films if you're reading, we need this to happen!)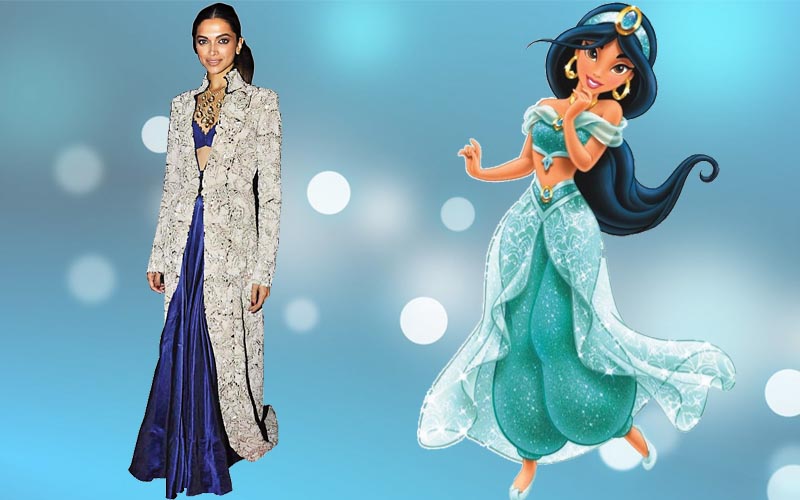 Princess Tiana (Princess and the Frog)
There is no doubt that with her dainty and petite frame, Aditi Rao Hydari embodies the looks of a real princess, and this sweetheart neckline Gauri and Nainika gown is the only thing that would exhibit the perfection of that idea.  With minimal jewellery and wavy hair, channelling the perfect princess Tiana, Aditi has our hearts; we're just waiting for her hidden frog/prince to show up soon.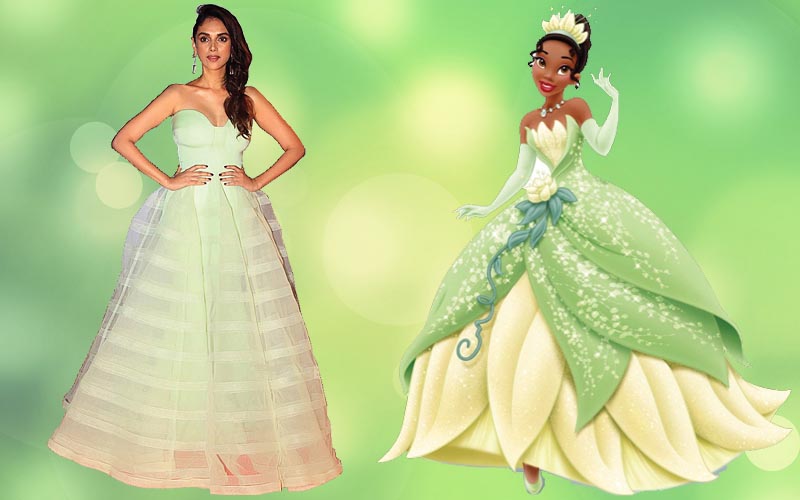 Elsa (Frozen)
Sharing more than just wardrobe choices, we have Kriti Sanon channelling her inner Elsa. One is Disney's fiercest and most adored newbie, and the other is Bollywood's.  The hair do is a fantastic bold choice, along with the sparkling crystal clutch, which actually makes her fit into Elsa's shoes even more. Not that it was needed, but this sultry Nikhil Thampi dress can make anyone feel/look like a dreamy icy royalty!
There is no red carpet complete without a jaw-dropping Armani Prive gown. While this year's Oscar saw many of those, Cate Blanchett, with her surreal beauty, blonde hair and crystallised excellence took red-carpet fabulous to the level of absolute royalty. That perfection of a dress makes for a stunning real-life Elsa outfit. We already know that Cate makes for a brilliant fairy-tale princess! (Galadriel from Lord of the Rings anyone?)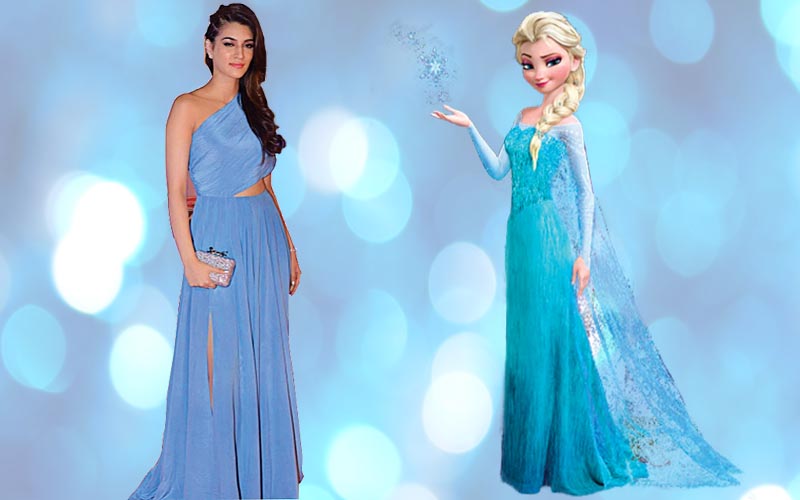 Cinderella
Often given the title of one of the most coveted Disney princesses of all time, it's only logical why we have Bollywood's most beautiful and reigning royals resembling and finding their inspiration in Cinderella.
Aishwarya and Deepika are not just princesses but have rightfully won the Queen status of Bollywood, be it their fashion sense, beauty or acting. (Did they just redefine the term triple threat?)
When you conquer the red carpet like this, there is no competing, only staring in awe and hopefully picking up any glass slippers left behind. Aishwarya absolutely nails it on the international red-carpet at Cannes in this structured off-shoulder Ralph and Russo masterpiece – all hail the queen. Deepika makes all jaws drop right to the floor as she whirls around in this stunning and impeccable Abu Jani-Sandeep Khosla ruffled ensemble.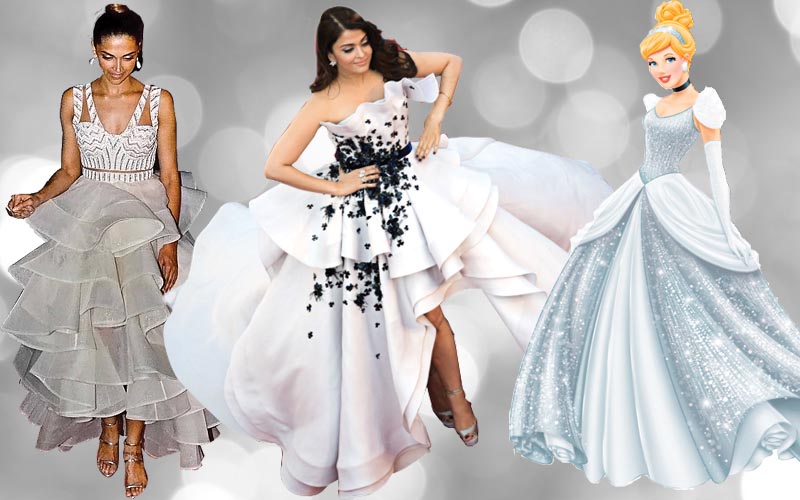 Maleficent
After watching Koffee with Karan, all of us were made well aware of Sonam's darker, unapologetic snarky side and if there is anybody who comes to your mind as a real-life drop-dead gorgeous demon beauty it's her.
Channelling that inner Maleficent and filling in the deep shoes of Angelina Jolie, Sonam Kapoor stunned in the structured Michael Costello gown.