THE SHINING STAR – Craftsmanship of Couture
The designer's latest collection focuses on Western silhouettes and traditional craftsmanship of couture. The shapes and forms take inspiration from gowns oozing Hollywood glamour from a bygone era and marry it with the modern techniques of embellishment, corsetry and styling.
Feminine Ideals
The gentle romance of this collection is in its whimsical silhouettes and colour palette.
Defining Elements
Sultry peach, celadon green and floss pink stretch satin gowns in delicate thread embroidery with varied floral motifs.
Off-shoulder dresses and flared skirts, hand embroidery in bugle beads, colour on colour sequins and Swarovski shimmer crystals.
Large and voluminous gowns in hues of beige and ivory with tonal embroidery and overlays of sheer tulle.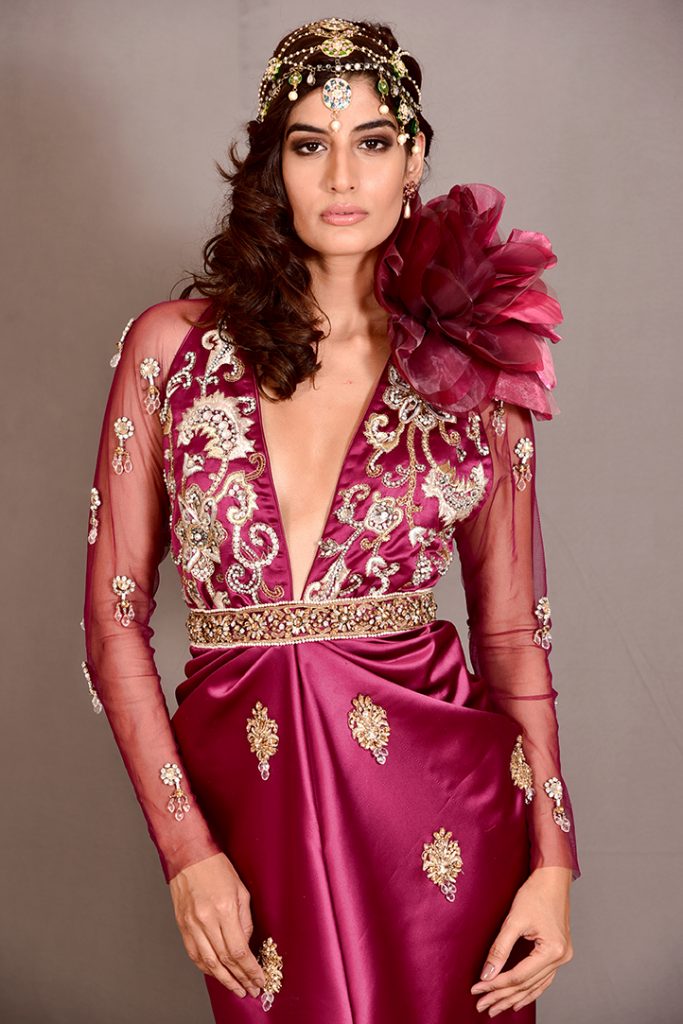 Satin Sirens
Red carpet ready gowns in the shapes of peplums and fitted floor length creations decorated with corsages and large handmade accessories.
Defining Elements
A rich colour palette of lustrous satin in Vermillion Red, Deep Burgundy, Midnight blue and Dark Rose.
The heavyweight satin is luxurious in its texture and takes the form of structured shapes.
The coloured thread embroidery with shimmer crystal on the nape of the neck, cascading frills on the shoulder and side seams make for a sexy, evening sophistication.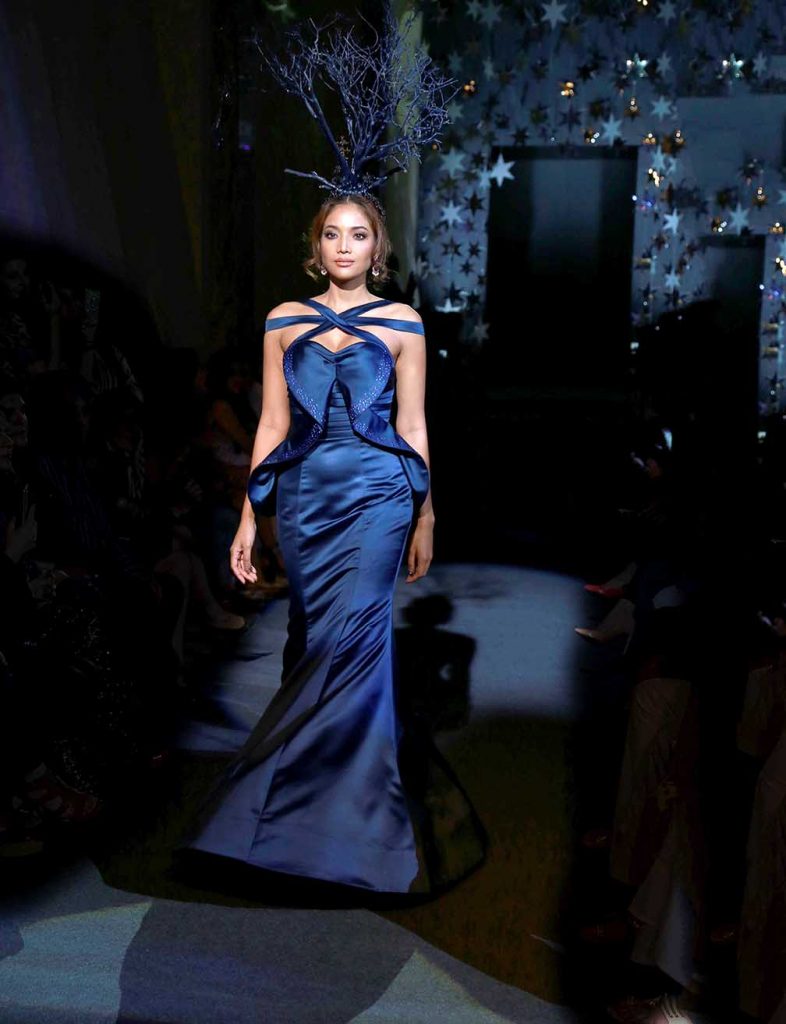 Post Modern Glamour
Floor length gowns and high-waisted skirts with asymmetrical corsets in beige, black and ivory jacquard weaves, metallic grey, bronze and dull gold tissue.
Defining Elements
Large hand cut mirrors embellished with tonal bead work in mosaic shapes.
Bustiers with abstract strap details conceal as much as they reveal and make a bold statement.
The handmade headgear in tissue and natural twigs create the surrealism for post modern glamour.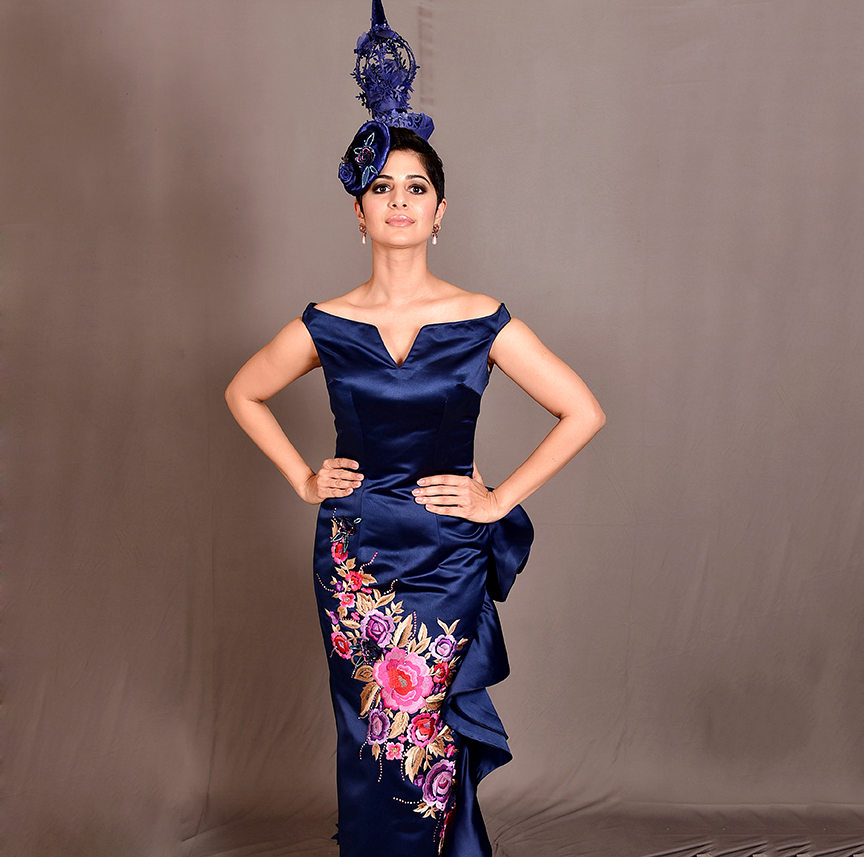 Freedom and Fantasy
Sweeping floor length gowns in gold, beige and pink are cinched at the waist with lame bows and belts.
Defining Elements
Silk organza fabrics with gentle baroque motifs embellished with tonal thread work and Swarovski crystals and tiny pearls.
Sheer necklines, deep cascading back details with tassels and halter necklines with beaded straps.
Corset and skirts are draped in sheer tissue with rose and beige ribbon embroidery and sew-on crystals and beadwork.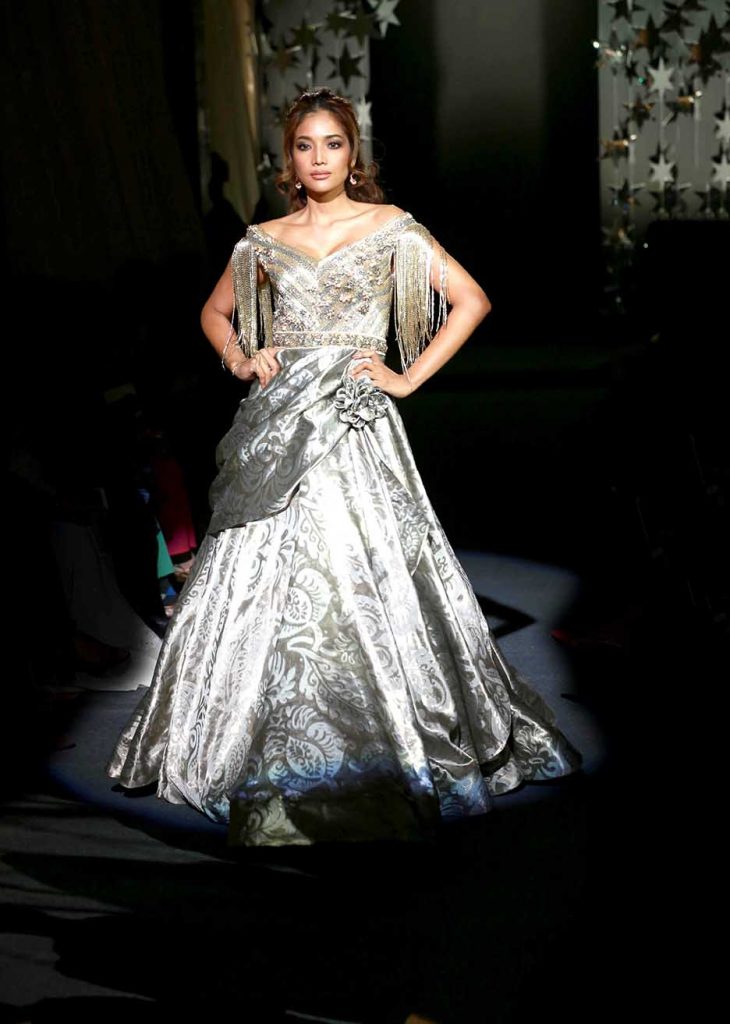 Highlight
This exclusively designed collection is encrusted with the latest Swarovski shimmer hotfix crystals. This innovation blends a futuristic gleam with bold crystal colours in nature-tech hues. To give it a subtle and sexy look, the collection is embellished with crystals in shades of fuchsia, light Siam, peridot, hyacinth, silk and more.
This year also marks SuneetVarma's successful collaboration of 15 years with Swarovski Crystals, making it a core ingredient in all his designs and global collaborations. From an iconic collaboration with Judith Leiber to couture collections to venturing into home décor with arttd'inox to his first bridal jewellery collection for the modern day bride, Suneet has fantastically married Swarovski crystals with all his collaborations.
 About the Designer
One of India's foremost couturiers, SuneetVarma is a name that immortalises glamour and timeless style. After getting his degree from Europe in 1986, he went on to work with renowned couturier Yves Saint Laurent in Paris. Meticulous craftsmanship, a strong design sensibility and an undying love for sartorial research, the Varma brand exudes fantasy, sexy sophistication and unadulterated feminity for the woman of today.
Associations with some of the strongest international brands make him a designer whose forte goes beyond a uni-dimensional profile. His designs are also very popular amongst the leading ladies of Bollywood including AishwaryaRai, Priyanka Chopra, KangnaRanaut and PreityZinta, and are featured on the International and Indian red carpets.